Trelleborg launches European Road Show at SIMA 2015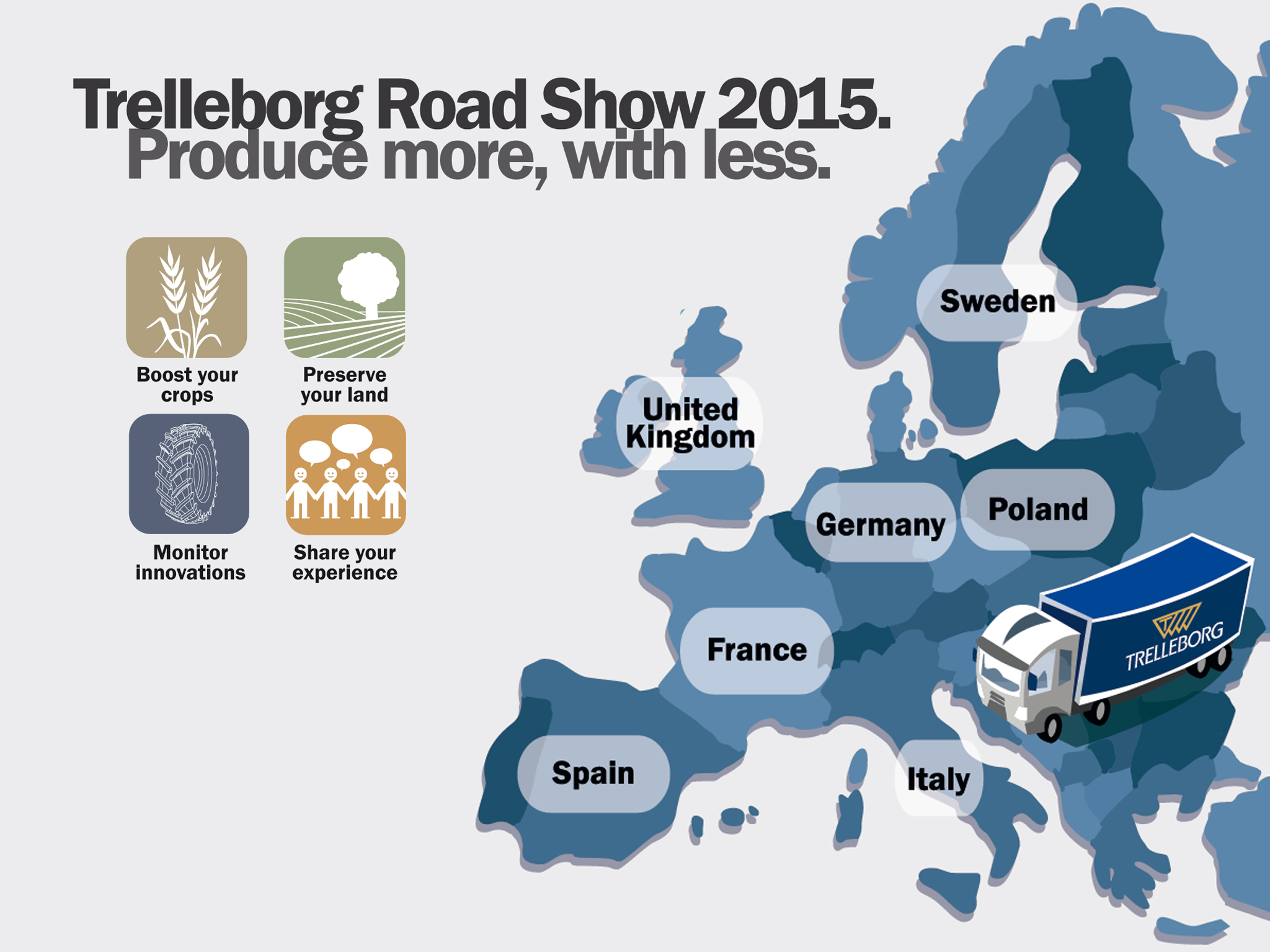 Trelleborg has launched its European Road Show 2015 at SIMA 2015, with one-day events planned in Italy, Sweden, Germany, Poland, France, Spain and the UK. The manufacturer says the roadshow will provide multiple field demonstrations of how farming professionals can enhance their operations and protect the future of their businesses. Trelleborg's 'Blue Box' interactive mobile stand will also provide visitors with information about its range of digital tools.
The new TM700 ProgressiveTraction 70 series radial tyre for middle range tractors will be the focus of the field demonstrations. Engineered according to the company's BlueTire technology, the TM700 offers farming optimisation with improved traction, self-cleaning and longer mileage.
Trelleborg plans to conduct three field demonstrations at each roadshow stop: the first will demonstrate the floatation, traction and fuel efficiency performance of the TM700 ProgressiveTraction; the second will address the importance of selecting optimal tyre inflation pressure for specific farming operations, as recommended using the Trelleborg Load Calculator; and the third will highlight how a wider tyre footprint can boost efficiency and productivity, resulting in significant savings.
The TM1000 High Power, TM3000, and Trelleborg THK rims will also exemplify Trelleborg's innovations offering more power, torque and crop yield, while reducing environmental impact.
Lorenzo Ciferri, marketing director agricultural and forestry tyres at Trelleborg Wheel Systems, commented: "At Trelleborg, we hold a long-standing commitment to ensuring farming professionals get the most out of their equipment and therefore produce more, with less. At the Trelleborg Road Show they will experience firsthand the benefits of the latest Trelleborg innovations."
Trelleborg will organise each stop in partnership with leading tractor manufacturers, highlighting its collaborative work to find the right combination between the tractor and its wheel solution in maximising the investment.
"Whether farmers want to boost the yield of their crops, preserve their land, get to grips with the latest digital innovations to enhance their performance or share agricultural best practice, the new Trelleborg European Road Show 2015 provides the ideal platform to do exactly that," added Ciferri.
The Trelleborg Road Show will take place from 5 June to 26 September, consisting of seven stops. Operators can register their attendance at www.trelleborg-roadshow.com.