Trelleborg releases 'Tire Efficiency' app for iOS, Android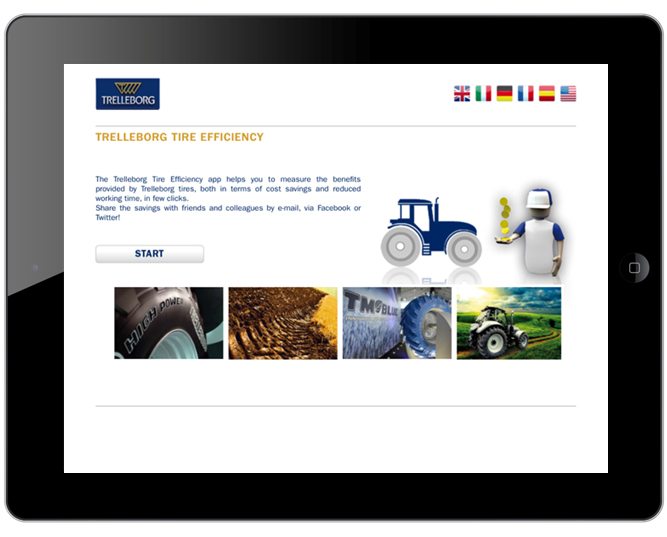 Trelleborg has extended its digital portfolio with the launch of the 'Tire Efficiency' app for use on iPad and Android tablets. Based on the concept of total cost of ownership, the app measures the benefits provided by a set of Trelleborg tyres for one axle both in terms of cost savings and reduced working time.
Specifically developed for farmers, contractors, and specialised tyre and machinery dealers, the app enables users to select the number of hectares covered, their specific operation, working time and several other parameters. The assessment is based on one year of operation and relates to a set of tyres for one axle.
"At Trelleborg, we are committed to providing farming professionals with the latest tools, solutions and services in order to run their farming operations more efficiently and productively," commented Lorenzo Ciferri, agricultural and forestry tyre marketing director at Trelleborg Wheel Systems. "For many farming professionals, upfront cost is one of the important considerations when selecting agricultural tyres. However, although costs savings may seem attractive in the short-term, they often come at the expense of whole-life costs. Farming professionals are therefore at risk of compromising long term efficiency and productivity.
"The concept of the total cost of ownership of the agricultural tyre is becoming an increasing consideration for farmers both for the selection of the tyre brand during the purchase of a new machine and when replacing tyres," added Ciferri. "However for many farming professionals, accurately calculating a tyre's whole life cost can prove particularly time consuming.
"Thanks to the new Tire Efficiency app, users can in just a few clicks precisely calculate the whole life cost of their existing tyres and the potential efficiency savings provided by Trelleborg's TM1000 High Power, TM900 High Power and TM800 tyres," Ciferri continued. "What's more, the app also provides users with everything they need to know about each tyre via technical product brochures."
Available in six languages, the new app features a design and user interface that allows farmers to share the results with friends and colleagues by e-mail, Facebook or Twitter. Trelleborg is in the process of creating the app in additional languages and making it available for use on all mobile devices and platforms.
Through the app, users can request access to Trelleborg's Tyre Efficiency Manual, also available in six languages, which details the necessary steps for the Total Cost of Ownership Calculator and educates farming professionals on how to benchmark alternative solutions for themselves. The app is connected to Trelleborg's tyre performance database that comprises the results of comprehensive product testing conducted by Trelleborg and in co-operation with leading institutes for research into the agricultural industry.
The Tire Efficiency app is available for download from the Apple store, Google Play and the Trelleborg Wheel Systems website.