Inaugural CAM UniSerV user group meeting coincides with UK tyre industry gathering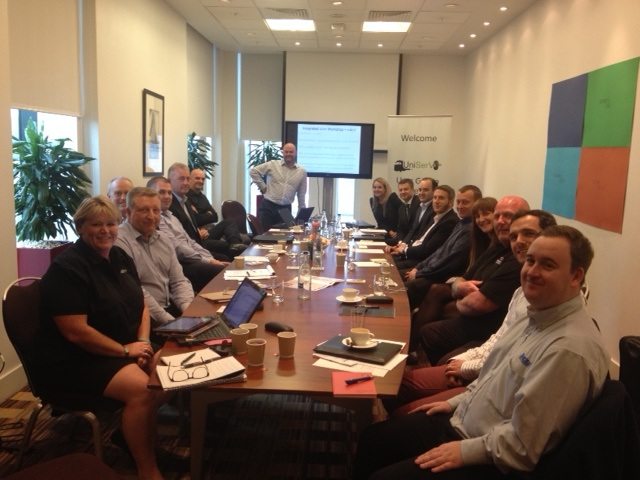 CAM has hosted the inaugural UniSerV User Group (UUG) meeting, chaired by Anne Sherwood, business support manager of Tructyre Fleet Management. The event took place ahead of the NTDA dinner on Wednesday, 8 October 2014 at Manchester's Hilton Deansgate. The software provider discussed the latest release of the software with some of its leading customers, using the meeting to identify and plan future developments to benefit the commercial tyre sector.
UniSerV customers AC Tyres, Anglian Tyre Truck Management, City 1st Tyres, Dexel Tyre and Autocentre, GW Tyres, Horndean Tyres, Lodge Tyre, Malvern/County Tyre Group, McConechys Tyre and Exhaust Centres, RJ Strang, Robbs Tyres, Tyrenet, Tyrework, Universal Tyres and Autocentres and Watling Tyres were invited to the event along with CAM's technical experts to discuss universal issues and exchange views and ideas with the aim of continuing to drive forward efficiencies and business enhancements through the UniSerV platform.
A framework of priorities and timelines is now being drawn up to ensure UniSerV's user work flow, mobile work and stock visibility, business intelligence and integration to third parties continue to enable UniSerV users to maximise their business efficiency and sales growth.
Anne Sherwood says, "It was a rare opportunity for many of the UniSerV users to come together in the same place, on the same day with the same objectives. CAM provided us with the forum to enjoy a fully interactive session where we could openly and positively work together to achieve one common goal: to continue to improve our businesses and drive forward efficiencies to sustain our long term success."
Kate Neill, UniSerV product manager for CAM, adds, "The session was well attended and extremely constructive. We were privileged to have so many of our ambitious and thought-leading UniSerV users in one room together. At CAM, we are deeply committed to ensuring business development and growth opportunities can be realised by our customers through the agency of better and more integrated UniSerV software for the delivery of world-class commercial tyre service."