Bridgestone develops new tyre allocation for Australian MotoGP round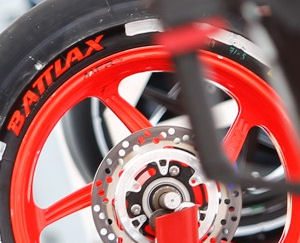 A brand new tyre allocation will be introduced for the 2014 Australian Grand Prix, including a newly-developed asymmetric front slick tyre. Bridgestone says the front slick it is making available for this weekend's event at Philip Island is a soft specification tyre that uses Bridgestone's soft rubber compound in the left shoulder while an extra-soft rubber compound is used in the lesser-used right shoulder in order to offer superior warm-up potential. The asymmetric front slick is being offered as part of Bridgestone's standard front tyre allocation, with the other two front tyre options in the allocation being conventional, symmetric slick tyres.
Describing the asymmetric slick in greater detail, the Japanese tyre maker says new advances in tyre construction and compound technology have enabled it to create a front slick tyre that maintains the braking stability of a symmetric tyre, but with enhanced warm-up performance and edge grip. The asymmetric front slick is composed of two different rubber compounds, with one shoulder composed of a softer rubber compound. In the case of Phillip Island where there are five right-hand corners compared to seven left-hand corners, this softer rubber zone will be on the right shoulder. The new zoning of different rubber compounds on the front slick means that when the rider reaches a lean angle of approximately 30° in right-hand corners, they begin to use the zone of softer rubber on the front tyre for greater safety and performance while cornering.
The rear slick tyres Bridgestone will allocate to riders at Phillip Island have been developed specifically for the severe demands the Australian circuit places on rear tyres, and will feature developments in construction and compound technology that are not featured at any other circuit on the MotoGP calendar. The three rear slick options for Phillip Island; the soft, medium and hard compound provide the optimal combination of safety, durability and performance to suit the new Phillip Island track tarmac following its re-surfacing in late 2012.
"After a concerted effort from our Technical Centre in Japan, we will introduce a brand new tyre allocation for this weekend's Australian Grand Prix," stated Shinji Aoki, manager of the Bridgestone Motorcycle Tyre Development Department. "Since last year's race at Phillip Island, we have tested at the circuit in a large variety of weather conditions to ensure our tyres will provide excellent durability and performance, while still providing good warm-up performance and usability for the riders. Such are the demands placed on the rear tyre at Phillip Island, that our rear slicks for this weekend use compound and construction technology that aren't used at any other circuit on the calendar. Our test results with these new tyres were encouraging, and I am looking forward to seeing them in a race situation this weekend.
"Our new asymmetric front slick is the result of a long development programme and I am pleased to see this new technology makes its debut in the MotoGP World Championship this weekend," he continued. "The innovative technology we've introduced on this asymmetric front slick will ensure that the riders will still enjoy the same high level of braking stability they associate with our symmetric front slick, but with better grip and warm-up performance while cornering. This development is yet another example of our commitment to continue developing new MotoGP tyre technology."