Bridgestone adding 3 sizes to Battlax S20 Evo tyre range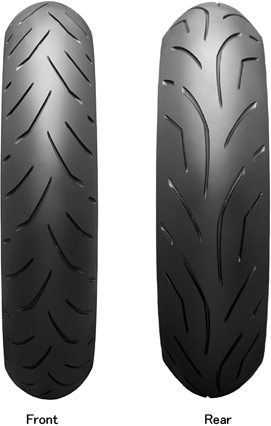 On 10 March, three new sizes will join Bridgestone's Battlax Hypersport S20 Evo sport radial tyre range. These include one front and two rear sizes, in dimensions popular on 250cc and other light/middle weight motorcycles. Bridgestone will initially launch the tyres in Japan and will then introduce them in other global markets.
Bridgestone says these additional sizes feature an exclusive design that allows performance in a wide operational range from winding roads to track days. Two technologies, high grip tread compound and small bead filler, have been adopted to address the characteristics of light and middle weight motorcycles. A high grip tread compound utilising technologies cultivated in MotoGP racing has been adopted to offset the low contact pressure common on light/middle weight motorcycles (under 600cc). A smaller bead filler was adopted to allow more sidewall compliance to better conform to uneven surfaces and improve cornering stability.
Size list
Front:
110/70R17 M/C (54H)
Rear:
140/70R17 M/C (66H)
150/60R17 M/C (66H)