Hot Montreal grand prix enables competing tyre strategies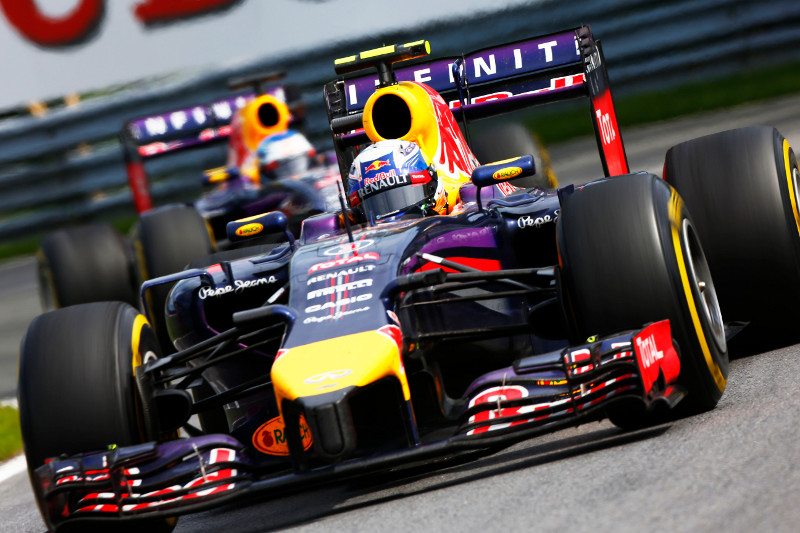 With practice and qualification completed under significantly cooler conditions, a hotter Sunday forced Formula One's teams to improvise when it came to tyre strategy at the Canadian grand prix. A safety car period, lasting eight laps right at the beginning of the race, also altered the strategy, with tyre degradation at the most critical fuel-heavy period minimised. Tyre supplier Pirelli says that wear on both compounds was generally low, despite track temperatures that exceeded 45 degrees centigrade and 30 degrees centigrade ambient.
Red Bull's Daniel Ricciardo won the race after overtaking Mercedes driver Nico Rosberg two laps from the end. A last lap collision with Force India's Sergio Perez prevented Williams' Felipe Massa from claiming a podium finish too, with Perez defending third place on older tyres, having stopped only once. Pirelli argues that both their strategies had launched both drivers into podium contention, with Massa benefitting from the extra speed of tyres that were considerably younger than those of his rivals during the final stint.
As a result Perez's teammate Nico Hulkenberg, who started on the soft tyre and completed a 41-lap stint before his single stop from the soft to the supersoft, was the one driver to turn a one-stop strategy into points.
Pirelli's motorsport director Paul Hembery said: "Once again, Canada delivered a thrilling grand prix: this time in hot conditions, which led to plenty of interesting tyre strategies. With such an action-packed race, we saw plenty of improvisation from several drivers as they attempted to use tyre strategy to their best advantage.
"Congratulations to Daniel Ricciardo for his first win after a truly memorable race. Congratulations also to Force India, which has often taken a different approach to tyre strategy compared to their rivals in all the time we have been involved in Formula One. In Canada this led to a good result, which could have been even better had it not been for the accident right at the end, demonstrating again how tyre strategy can be used to boost final positions."
Pirelli supplied Ferrari Challenge
The Ferrari Challenge, supplied by Pirelli since 1993, also visited the Canadian grand prix with two 16-lap races. The championship uses specially prepared Ferrari 458 race cars and some of the most prestigious circuits throughout North America, rejoining the Formula One calendar at Austin in November. Pirelli says its association with the series is one of the longest of its kind – between a championship and a tyre supplier – in motorsport, having begun in 1993. Hembery presented the prizes on the podium in Canada.