Goodyear releases blimp name shortlist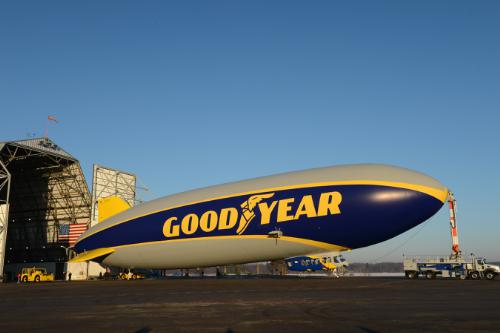 After receiving nearly 15,000 unique submissions for its 'Name the Blimp' contest, Goodyear has published its shortlist of names for its newest blimp, which took its first flight in mid-March. The ten finalist names are:
Adventurer
Ambassador
Commitment
Excursion
Explorer
Goodwill
Inspiration
Pride of Goodyear
Resolute
Wingfoot One
The tyre maker has invited to US residents to vote for their favourite name from this list; the winning name should meet four stated criteria: Acknowledge "Goodyear's ongoing track record of delivering superior performance and innovation"; reflect the "storied history and tradition of the Goodyear Airship"; resonate with the "Goodyear airships' long history of public service and community engagement"; and reflect the grace and majesty of lighter-than-air flight". Voting closes 9 May.
Tell us what you think the name should be on the Tyres & Accessories Facebook page: