Goodyear racks up 60 years of NASCAR tyre supply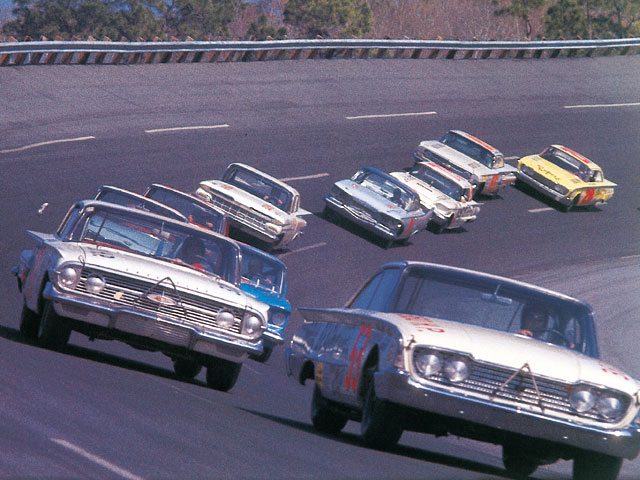 This year, Goodyear Tire & Rubber celebrates its 60th anniversary as a key supplier to the USA's most popular motorsport – NASCAR. The tyre maker says its NASCAR tyre supply is one of the longest-running supplier relationships in racing, and in all of sports history.
"All of us at Goodyear are extremely proud to celebrate 60 consecutive years of supplying race tyres to NASCAR and its drivers," said Stu Grant, Goodyear's general manager of global race tyres. "Since 1954 our involvement in NASCAR has been a proving ground for tyre development, helping Goodyear provide superior performance and innovation both on and off the track."
Just as NASCAR cars have evolved over the decades, today's Goodyear Eagle race tyres bear little resemblance to the standard car and police tyres used in the early 1950s. Goodyear introduced purpose-built treaded cross-ply race tyres into NASCAR in 1957 and slick cross-ply race tyres in 1974. The first radial racing tyres were introduced in 1988. The most recent innovation is last year's launch of race tyres using Goodyear's exclusive Multi-Zone Tread Technology.
Multi-Zone Tread Technology consists of two distinct tread compounds in a single right-side tyre; the concept was inspired by similar innovations in a Goodyear passenger car tyre, the Assurance TripleTred All-Season. "One of the most exciting developments in recent years was the introduction of Multi-Zone Tread tyres in 2013," said Grant. "First raced at Atlanta, it's a concept with enormous potential. Based on the success we experienced, we're investing capital in our manufacturing process to expand the use of Multi-Zone Tread in 2014 and beyond."
Looking forward to Goodyear's future relationship with the motorsport, Grant concluded: "The evolution of our NASCAR racing tyres has been a very exciting and rewarding project. We are looking forward to the next 60 years."