Nokian launches first winter contracting tractor tyre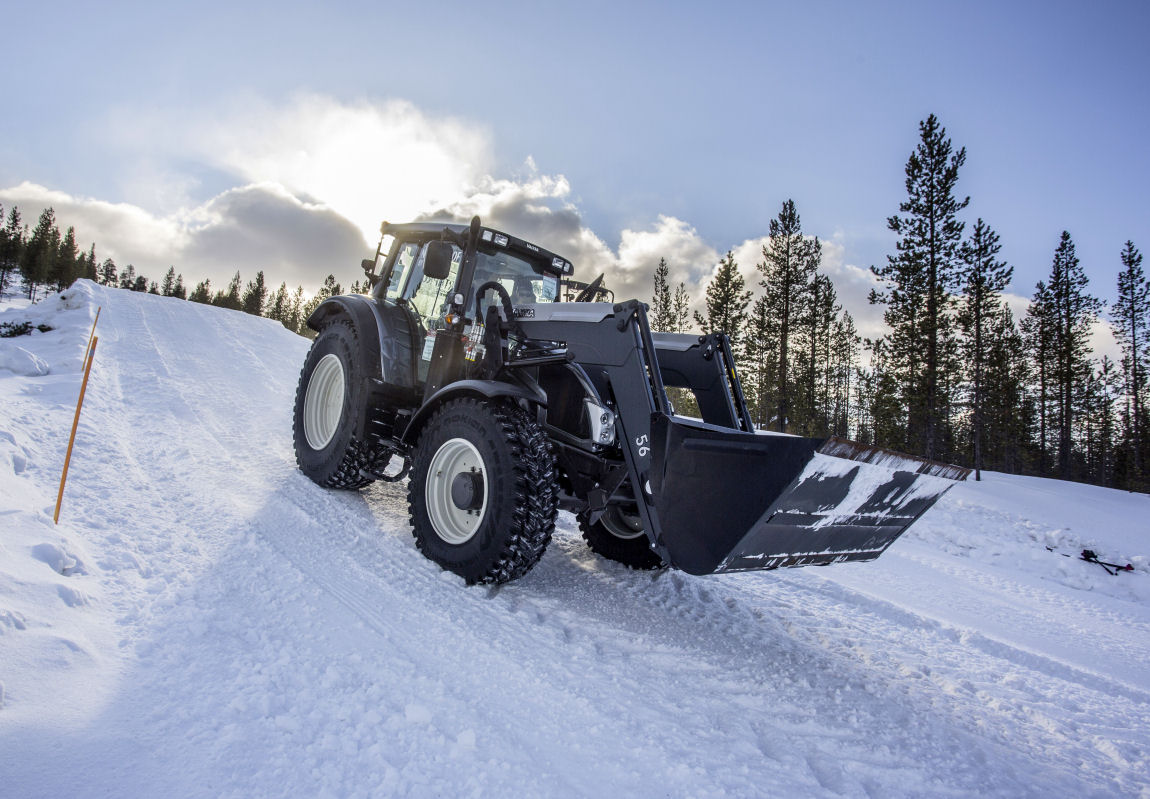 This year, Nokian Heavy Tyres is introducing a new winter tyre aimed at contractors such as those engaged in winter road maintenance and snow clearing. Nokian claims this new addition to its portfolio, the Hakkapeliitta TRI, as "another first from the inventor of winter tyres" and says it introduces totally new technologies that will benefit users in winter contracting and snow clearing businesses. These innovations include a "revolutionary tread design, tread block siping with siping activators and specially designed winter tread compound"; features said to "ensure that the user has superior traction and the best possible handling without compromising the economy of use."
The need for a more specialised tyre for winter use on tractors came to light during close work with end users a couple of years ago, shares Nokian. The company used its knowledge of winter conditions gained through on-road tyres to expand the Hakkapeliitta series into heavier machines such as tractors used in winter contracting. The initial range covers size sizes (three pairs), with a further three sizes introduced in the first quarter of 2015. Nokian says the range will cover common sizes for road maintenance equipment in snowy areas. Key markets for the Hakkapeliitta TRI include the Nordic countries, the alpine region in Central Europe and North America.
Designed specifically for winter use, the new tyre complements the all-year use Nokian TRI2. Compared to the traction levels of the TRI2, Nokian's tests show that the Hakkapeliitta TRI has 25 per cent more grip on ice and 23 per cent more grip on snow. This improvement has been verified by extensive field testing from real end users, the tyre maker adds.
"During our market study our customers raised three main points for development: winter grip, handling and comfort, and economy of use," commented Hakkapeliitta TRI project manager Tero Saari. "These have been our key drivers during the whole project and I'm pleased with the result. Nokian Hakkapeliitta TRI has a tread design which is optimal for driving on ice, snow or slush. You have to remember that these people who are using these tyres are on the road before anyone else and they are driving in worst possible conditions. In those conditions you need all the grip and handling you can get."
The Hakkapeliitta TRI has a high proportion of rolling direction and lateral gripping edges, and is the worlds' first tractor tyre with siping. Siped blocks are equipped with siping activators that help maximise grip. The tread pattern also improves lateral grip through diagonal siping (in the driving direction) and it has steps that offer additional edges in both the traction and lateral directions. Even more grip can be achieved by adding studs – the Hakkapeliitta TRI has predefined stud positions for later application if the operating environment demands it. Driver comfort is catered for by a low vibration design also seen in passenger and truck tyres – a so-called 'pitch length variation' that ensures more comfortable driving experience and lower noise levels.
A totally new tread compound has been used in the Hakkapeliitta TRI, a compound specifically developed to suit winter contracting work without compromising the rate of wear. And Nokian says that compared with the Nokian TRI2, the Hakkapeliitta TRI has five per cent lower rolling resistance.