Pirelli hails F1 tyre longevity on tough Shanghai circuit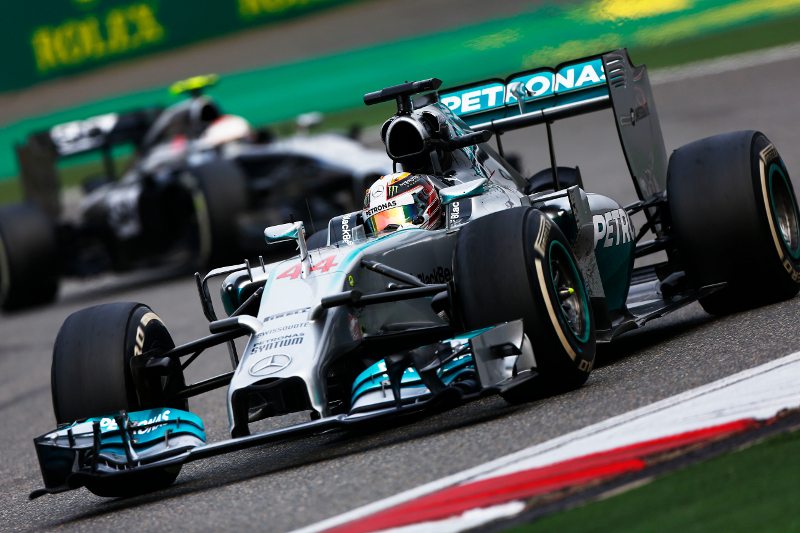 The strength of the P Zero White medium tyre following a start in which most used the soft P Zero Yellow allowed the top 15 to complete two stops only on the demanding Shanghai circuit, Pirelli said. Formula One's exclusive tyre supplier had anticipated increased wear as a result of very long corners and high G-forces, but the 2014 tyres' increased durability allowed Mercedes' Lewis Hamilton to use a two pit stop strategy to win, following a long second stint.
Pirelli's motorsport director Paul Hembery said: "After a wet qualifying session yesterday, all the drivers had their full allocation of slick tyres for the race. From the beginning the strategies were open: it was going to be either a two or three stop race, with the performance of the soft tyre in the first stint as well as the medium tyre in the second stint holding the key to each driver's potential. Once it was clear that a slight increase in track temperature today wasn't going to have a significant effect in terms of graining on the soft tyre, the teams concentrated on the main race tyre: the medium.
"Temperatures generally throughout this weekend have been low – among the lowest we have seen during a race weekend over the last three years – and as a result we did see some graining on the soft tyre in particular, which also caused a few marbles on the back straight. That's not something we like to see, but under the circumstances, it was to be expected. Degradation on the medium tyre was less than a tenth of a second per lap here, while degradation on the soft was just over two-tenths of a second."
McLaren's Kevin Magnussen was the only driver to start the race on the P Zero White medium tyre, while the other drivers all started on the P Zero Yellow soft.
Formula One now heads to Europe, with the second two-day in-season test of the year taking place after the Spanish Grand Prix. Sauber and Toro Rosso will be testing 2015 tyres for Pirelli on the opening day of the test, followed by Force India and McLaren on day two.