Maxxis back as Australian Open sponsor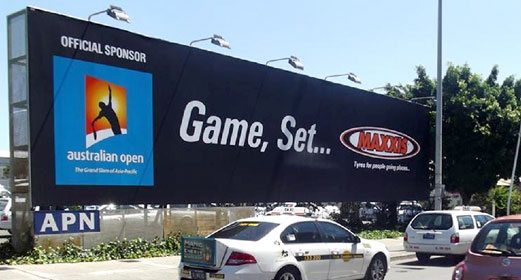 The Australian Open has begun in Melbourne, and for the fourth year in a row Maxxis is on board as an official sponsor. It is also the 'official tyre' of the Australian Open. Under the terms of its sponsorship deal Maxxis signage is present in Rod Laver Arena (centre court), and the tyre maker is entitled to use the Australian Open logo in marketing materials and promotional activities.
This initial serve in the 2014 grand slam tournaments will play out in Melbourne until 26 January and is expected to be televised in over 200 countries and beat the more than 8.8 million views recorded on the official Australian Open YouTube channel last year. In other words, the Australian Open gives Maxxis phenomenal brand exposure.
In order to capitalise on what it says is already strong brand awareness in Australia, Maxxis organised a high-impact marketing push, including a major national billboard campaign, for the lead-up and duration of this year's Australian Open. This campaign carries the tag-line "Game, Set…..Maxxis," which company officials expect will be remembered even after the event has concluded.