Giti Tire looks online with e-commerce role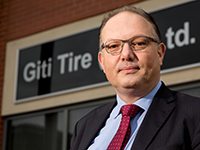 As part of its efforts to build up its online presence, Giti Tire has appointed Neil Hendry to the newly created role of Internet Strategy and E-Commerce manager – Europe. Hendry is based at the company's UK headquarters in Cheshire and responsible for the development of a coherent web and social media strategy to maximise internet presence throughout the continent. Reporting directly to European managing director Richard Lyons, he will also look at the implementation of possible e-commerce solutions with partner dealers and customers to grow market share in each individual country.
Possessing over ten years experience in the digital industry, Hendry joins Giti Tire from Canadean Custom Solutions, the flagship business information and market research brand for Progressive Digital Media, where he held the title of managing director. Previous senior roles include positions at Datamonitor and Michelin.
"Giti Tire has three key brands in Europe – GT Radial, Primewell and Runway – and the development of each requires the right people and a specific web strategy in each country to reach and assist dealers and customers," said Lyons. "To deliver this brief requires an excellent individual, and Neil fits the bill."
"This role is a strategic management position in an organisation committed to growth through the continuous development of its people, products and processes," added Hendry. "I will utilise all my skills to make a tangible difference to the efficiency, results and profitability of the company."