Tag: Michelin Auto Professional
Embracing the ever-evolving digital consumer experience is key to thriving in the tyre retail trade, Michelin's partner dealers were told at annual regional forums across the UK and Ireland. Guests at the full-day events, held in Windsor, Manchester and Kilkenny, were encouraged to make full use of the tools and advice Michelin provides to develop a slick, engaging and accessible online presence capable of reaching a far wider audience. The forums also highlighted the dedicated end-to-end support that Michelin offers to all partner retailers – giving them the best possible platform upon which to build a solid and loyal customer base.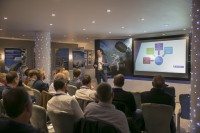 Customers who research tyres online, but purchase offline were the major topic of this year's annual conference for Michelin's Auto Professional network. Michelin estimates that around 70 per cent of tyre purchases begin online – though actual online tyre purchases remain much lower – so tackling this growth market is now an important aspect of tyre retail, as Mark Meagher, retail programme development manager explains.