Prinx Chengshan: Increased sales, lower profit in H1 2022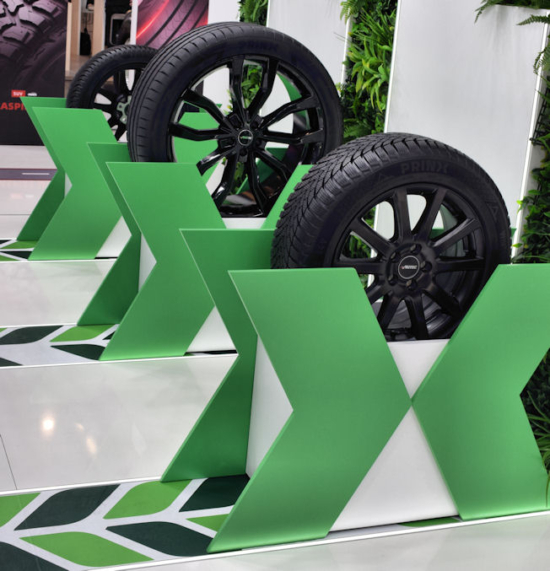 Prinx Chengshan Holdings Limited and its subsidiaries report selling 9.394 million tyres during the six months to 30 June 2022, a year-on-year increase of 3.3 per cent. From this total, 3.333 million were all-steel radial tyres and 5.919 million semi-steel radials. Cross-ply tyres accounted for some 142,000 pieces.
Sales revenue for the manufacturer of the Austone, Fortune, Chengshan and Prinx tyre brands reached RMB 4,091.2 million (£513.1 million) in H1 2022, a year-on-year increase of 9.0 per cent. With adjustments to selling price unable to keep pace with rising costs during the period, gross profit declined 13.2 per cent year-on-year, to RMB 536.9 million (£67.3 million). Profit attributable to shareholders of the company amounted to RMB 158.6 million (£19.9 million), down 35.4 per cent.
Sales of all-steel and semi-steel radials respectively brought in RMB 2.62 billion (£328.6 million) and RMB 1.43 billion (£179.4 million) during H1 2022. Cross-ply tyres contributed just RMB 40 million (£5.0 million) to the top-line result.
Strong international sales
In terms of sales channels, Prinx Chengshan relied heavily on international distributors, and these accounted for 70.6 per cent of the company's sales. Distributors within China generated 21.3 per cent of sales, while OEM tyres delivered to vehicle manufacturers accounted for the remaining 8.1 per cent of sales.
Lockdowns in China during the period resulted in sluggish commercial vehicle replacement sales volumes, with revenue of RMB 872 million (£109.4 million) obtained through domestic distributors representing a year-on-year decrease of 16.1 per cent. In contrast, revenue from international markets amounted to some RMB 2.89 billion yuan (£362.5 million), up 56.4 per cent. Production from the Prinx Chengshan plant in Thailand accounted for 56.2 per cent of internationally-sourced revenue, and the Shandong, China facility the remainder.
Capacity growth in Thailand & China
The aforementioned facility in Thailand reached its second-phase capacity of 1.2 million all-steel radial tyres and 4 million semi-steel radials during the first quarter of the year, giving the plant an overall annual capacity of 2 million all-steel and 8 million semi-steel radials. Capacity utilisation rates in Thailand reached 99 per cent for all-steel radials in H1 2022 and 75 per cent for semi-steel products.
Also entering production in the first quarter of 2022 was the Shandong plant's expansion project, whose annual output of 1.05 million all-steel and 2.8 million semi-steel radials gives the facility an overall annual production capacity of 7.4 million all-steel radial tyres and 11.2 million semi-steel radials. All-steel and semi-steel radial production reached 71 per cent and 84 per cent of respective capacities in H1 2022.