TÜV SÜD presents Prinx Chengshan certificate for DR606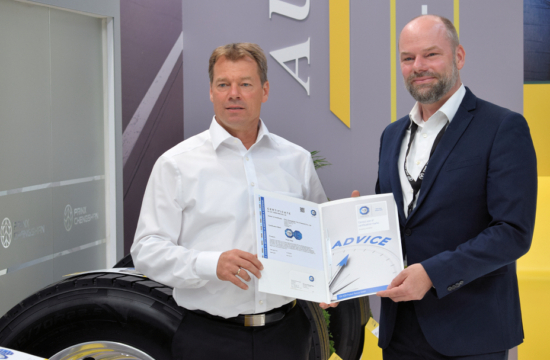 Prinx Chengshan is rolling out a new range of European market truck tyres under the Austone and Fortune brand names, and its efforts recently gained a boost when TÜV SÜD awarded the DR606 drive axle pattern its test mark. The tyre maker officially received this distinction during The Tire Cologne, when the head of the TÜV SÜD tyre testing team presented Prinx Chengshan its certification.
Michael Stamm, team manager for independent tyre testing and certification at TÜV SÜD Product Service, visited the Prinx Chengshan exhibition stand to do the honours. He handed the pertinent documentation to Thomas Wohlgemuth, managing director of Prinx Chengshan Tire Europe.
As reported by Tyrepress in April, the DR606 – present at The Tire Cologne as the Austone ADR606 – gained the TÜV SÜD test mark after the testing specialist evaluated it for wet braking, pass-by noise, rolling resistance and robustness. The DR606 pattern is part of the tyre maker's new on-road series for regional and long-distance traffic. Prinx Chengshan says it offers first-class mileage, excellent durability and retreadability.
"The cooperation with TÜV SÜD Product Service GmbH is very important for us as a European subsidiary of Prinx Chengshan in order to carry out a neutral, very high-quality test of our tyre products under the highest TÜV standards and to target our products specifically to the European market," states Thomas Wohlgemuth. "If our tyres pass the TÜV test, this immediately provides proof of the quality and performance of our tyres."
Wohlgemuth describes TÜV SÜD certification of the DR606, a product developed in Europe and China and made in Thailand, as "both a milestone and a testament to the outstanding quality of our tyres." He adds that Prinx Chengshan sees "increased development opportunities for the European market on the basis of the quality seal, because the certificate has a signalling power" – it is "perceived and accepted accordingly by the market and creates confidence in our product."
Prinx brand coming to Europe
In addition to the Austone, Fortune and Chengshan branded products it sells in the UK and Europe, Prinx Chengshan also brought a couple of Prinx tyres to The Tire Cologne. It doesn't currently market these products in our part of the world – but the Prinx brand is on its way here.
Prinx Chengshan has contemplated bringing the Prinx brand to Europe for several years, but instead chose to focus primarily on Austone and Fortune. Sybille Schümann-Huth, senior marketing & communications manager at Prinx Chengshan Tire Europe, confirmed to Tyrepress that the company will launch Prinx within our region in the foreseeable future. We can expect a passenger vehicle range that includes summer, winter and all-season fitments. Whether or not the Prinx range for Europe includes features seen on Prinx Chengshan's new Chinese market 'Hua' range remains to be seen.