From bottles to tyres: Continental introduces recycled PET products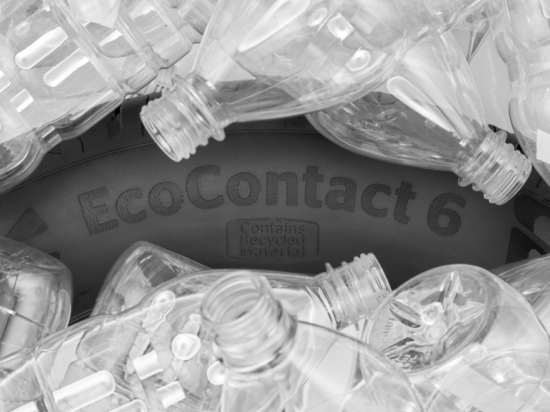 Selected sizes within the Continental PremiumContact 6, EcoContact 6 and AllSeasonContact tyre ranges will now contain recycled polyester yarn obtained from plastic PET bottles. The recycled yarn completely replaces conventional polyester within the tyre casing, with around 40 PET bottles needed for a typical set of passenger car tyres.
Continental unveiled the inhouse ContiRe.Tex technology for the first time in September 2021. It uses polyester yarn that is obtained from used PET bottles without any intermediate chemical steps and not recycled in any other way. According to Continental, this makes the technology much more efficient than other standard methods for processing PET bottles into high-performance polyester yarns.
The bottles used for the technology come exclusively from regions without a closed recycling loop. The recycling process begins with removal of caps prior to the bottles being mechanically cleaned. The bottles are then mechanically shredded, the PET further processed into granulate and finally spun into polyester yarn.
"We only use high-performance materials in our premium tyres. From now on, these will include polyester yarn from PET bottles, made in a particularly efficient recycling process. We brought our innovative ContiRe.Tex technology to the production stage in just eight months. I'm proud of our entire team for this remarkable achievement," says Ferdinand Hoyos, who heads Continental's tyre replacement business in Europe, Middle East and Africa (EMEA). He adds: "We're constantly expanding the share of renewable and recycled materials in our tyres. By 2050 at the latest, we want to use only sustainable materials in our tyre production."
First PET tyres now available
During the market launch phase, Continental is producing all PET yarn tyres at its plant in Lousado, Portugal. Tyres utilising ContiRe.Tex technology are identifiable by a 'Contains Recycled Material' logo on the sidewall.
Polyester yarn made from PET has long been used as a material in passenger and light truck tyre assembly. The textile cords absorb the forces of the tyre's internal pressure and remain dimensionally stable even under high loads and temperatures. Continental's search for more sustainable alternatives led to it debuting PET polyester within the Conti GreenConcept tyre at last September's IAA Mobility show. It has also developed a tyre that uses ContiRe.Tex for the second season of the all-electric Extreme E racing series, and support vehicles for this year's Tour de France will also be equipped exclusively with ContiRe.Tex tyres.
Available sizes
In the UK, Continental is initially launching from mid-April across ten PremiumContact 6 and the EcoContact 6 sizes. Customers in selected European markets will also be able to purchase the AllSeasonContact with ContiRe.Tex technology in five sizes.