Off-highway capacity to double: Ceat curtails TBR expansion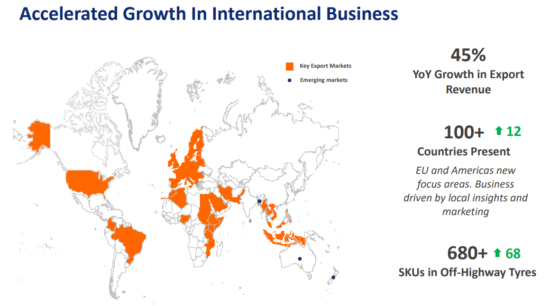 With exports of its off-highway tyres (OHT) particularly healthy at present, India's Ceat Limited has decided to increase its strategic focus in this area and will more than double agricultural radial capacity by mid-2023. Existing plans to expand truck and bus radial (TBR) production are thus taking a back seat.
The tyre maker announced in May 2021 that it would invest Rs 12 billion (£118.6 million) to boost TBR capacity, with this investment taking place in two phases. At the time, Ceat said it would deploy approximately half the investment immediately and the balance later when the market picks up. The tyre maker is currently implementing phase one with an outlay of Rs 7 billion (£69.2 million), and this will lift monthly truck tyre capacity at the Halol plant in Gujarat to approximately 140,000 tyres. The investment also covers the setup of truck tyre production at the company's Chennai site, a project that will provide an additional 45 tonnes per day capacity (some 40,000 tyres monthly) when completed in mid-2023, at least nine months later than originally scheduled.
However, managing director Anant Goenka confirmed during an earnings call on 20 January that Ceat has "curbed" its TBR ambition and will "look at shifting that investment to OHT if demand allows that." Therefore, the company has elected to "indefinitely postpone" phase two of its TBR project, for which it had earmarked Rs 5 billion (£49.4 million). "Because strategically we have decided to increase our focus on the OHT segment," explained Goenka.
OHT to exceed 10% of business
At present, Ceat is implementing a downstream capacity expansion for OHT production. Its capacity for agricultural radial tyres currently stands at 50 tonnes per day, and Ceat plans to boost this to 80 tonnes daily by July or August 2022. Goenka shares that the tyre maker will then commence a new round of investment that will result in a 105 tonne per day capacity in the coming 12 to 15 months.
The managing director comments that OHT currently accounts for just five per cent of Ceat's business. "But we would like to take this up to about ten per cent plus over time." He also aims for exports to grow from their current 18 to 20 per cent of the total business to 25 per cent.
"Strategically, we are looking at shifting our focus more towards other categories, which would be international business, OHT business, passenger anyways we are focused on," Goenka elaborates. "But if we need to increase, for example, international business, which gives us higher margins, we will focus a lot more in that." Ceat's growth aspirations over time will thus "be much higher on the passenger and OHT and international business rather than the domestic truck segments."