Ceat introducing European truck tyre range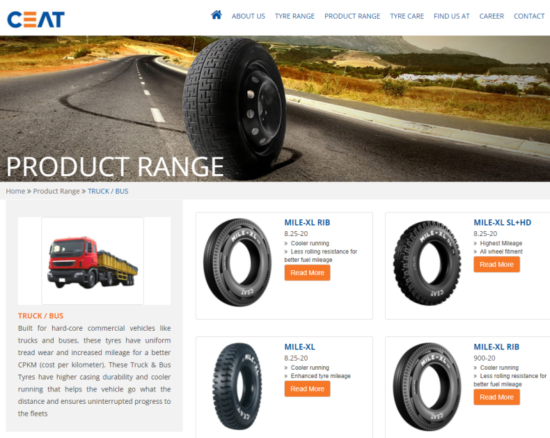 Indian manufacturer Ceat Limited intends to launch a range of truck radial tyres in Europe during the first half of this year. Speaking during an earnings call on 20 January, managing director Anant Goenka said the range would arrive in "four to six months' time" and further push the strong growth the company is already experiencing in the region. The line-up would be similarly positioned to the "Korean players" in the market, he added.
Expansion within Europe to-date has come through agricultural tyre sales as well as Ceat's passenger car tyre range. Goenka spoke of "huge growth" for the latter and said that in addition to increasing the range, Ceat intends to enter new markets such as France and Germany. The brand is already present in the UK, where consumers can choose from a portfolio of summer, all-season and winter tyres for cars and SUVs.
The USA is also an interesting market for Ceat and the company intends to gain a foothold there. A measure of patience is required though, as Goenka reports that the company is "about a year out" from looking at introducing its car and truck radials in that market. But when it does so, and after introducing the Ceat truck range for Europe, the managing director is confident that "international business as a percentage of our revenues will grow substantially."
Export revenue up 45%
According to Anant Goenka, growth in Ceat's international business represented a silver lining for the company during the three months to 31 December 2021. Ceat achieved a 45 per cent year-on-year growth in export revenue and 27 per cent rise in export volumes during the period, and as already mentioned the European Union and the Americas were new focus areas for the company. Exports accounted for 19 per cent of overall revenue in the first half of the current financial year, up from 14 per cent a year earlier.
Business with off-highway tyres also formed part of this silver lining, with Ceat enjoying "robust growth" within this business. The company also gained market share in the passenger segment.
Muted demand, margins under pressure
But every silver lining has a cloud, and Ceat Limited announced a consolidated net loss of Rs 200 million (£1.97 million) during the aforementioned three months, the third quarter of its financial year. The tyre maker achieved revenue of Rs 24,13 billion (£237.97 million), which was up 8.6 per cent year-on-year, and an EBITDA margin of 5.9 per cent, down 935 bps year-on-year.
Commenting on these results, Anant Goenka states: "We are witnessing muted demand in the replacement segment due to tepid consumer sentiment, higher fuel prices and softer uptick in India's rural markets. The ongoing semiconductor shortages continue to impact OEM passenger segment sales." Replacement volumes contracted 14 per cent year-on-year. Goenka shared during earnings call that OEM demand for truck tyres remained strong, whilst demand for agricultural and two-wheeler tyres was "sluggish", leading to an overall year-on-year decrease in original equipment volumes of approximately seven per cent.
"Our margins continue to be under pressure due to rising commodity prices, which have begun to taper down towards the end of Q3," Goenka continues. "We are taking necessary corrective actions to cut costs and are looking at appropriate price increases going forwards."
Standalone results
On a standalone basis, Ceat Limited's revenue stood at Rs 24.06 billion (£237.29 million) and EBITDA margin at 5.5 per cent. Net loss amounted to Rs 150 million (£1.48 million).
"We continued to face high inflation in raw material prices in Q3 and hence we have taken necessary steps to exercise strong control over discretionary costs," comments Kumar Subbiah, chief financial officer of Ceat Limited. "The weakened market scenario and rising input costs continued to put pressure on our margins, leading to an increase in our debt levels during the quarter. We have brought down our finished goods inventory levels and have already taken the necessary steps to bring down the raw material inventory in Q4, which will help our balance our cash flows and keep a cheque on our overall debt."