Ceat promoting growing agri tyre range for Europe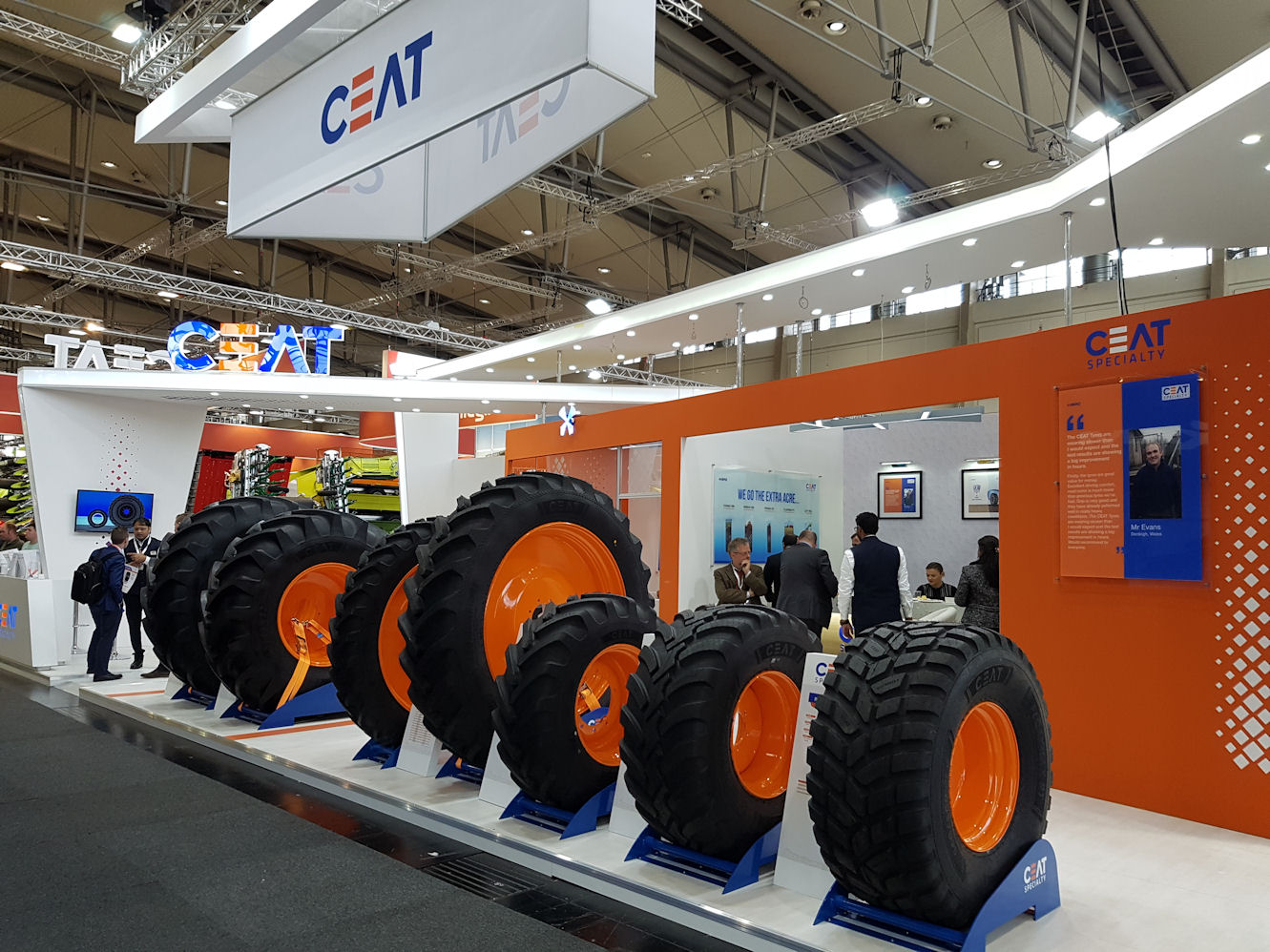 Ceat may well be the largest agricultural tyre maker you've never heard of, but the company is intent on changing this. After concentrating recent efforts upon developing products suited to European conditions and needs, the company is now dedicating its energies to intensively promoting and establishing its agricultural range within the region.
This range includes two new products. The first is the Torquemax, a tyre developed for larger-sized tractors. Introducing Torquemax during the Agritechnica show, Vijay Gambhire, managing director of Ceat Specialty Tyres, emphasised the benefits offered by its IF technology and wide footprint, specifically reduced compaction and 20 per cent higher loads at the same pressure. Continuing on to the tread pattern, he pointed out that its stepped lug design delivers improved grip. The angle of these lugs decreases as they approach the shoulder area in order to give better traction. A tilted lug tip reduces the occurrence of vibration at higher speeds. Torquemax also has rounded shoulders to protect crops.
Ceat Torquemax will initially be available in size 480/80 R50. Gambhire states that "several more products" will be launched in the near future.
The second new Ceat agricultural tyre is the Yieldmax. With a flexible radial casing and a R-1W tread featuring deep tractive lugs for aiding traction, the Ceat Yieldmax is engineered for front axle combine harvester use. Ceat says the tyre is "designed to work as part of modern sustainable and precision farming by minimising harvesting's impact on the soil."
Key design features include interlug terracing at the base of the lugs – this helps the tyre's self-cleaning capability. Durability is enhanced by a rounded lug base that aids robustness and resistance to stubble and sharp stones. The tyre maker says these features also contribute to optimal lateral stability, even on difficult and very uneven terrain, as well as low vibration levels and high comfort in all working conditions.
The Yieldmax is available in 620/75 R32 and 620/75 R36 – sizes that, according to Ceat, offer "increased load capacity without necessitating a move to a wider tyre." The tyre is currently available in fabric belt versions, however Gambhire confirms that a steel belted version is on its way. Other new products we'll see in the "near future" include steel belted flotation tyres and IF/VF tyres for sprayers.
Torquemax and Yieldmax come – as do all Ceat agricultural radials – with a seven-year warranty that covers manufacturing and material defects.
The market will see a lot of Ceat
Agricultural tyres account for (according to Ceat's 2018-19 Annual Report) some seven per cent of the company's total revenue of RS 69.8 billion (£737 million). These products are produced by Ceat Specialty Tyres, a wholly-owned subsidiary that Ceat Limited set up in 2015. Parent company Ceat is in turn a subsidiary of the RPG Group, a conglomerate with revenues exceeding US$3.3 billion. The Ceat Specialty Tyres portfolio includes radial and cross-ply agricultural, industrial, construction, material handling and mining tyres. The 154 (as of November 2018) radial products in this portfolio are manufactured in a state-of-the-art factory that Ceat opened in Ambarnath, India in October 2017.
Ceat off-highway tyres are now sold to aftermarket customers in 20 European countries via Netherlands-based operation Ceat Specialty Tyres B.V., and Nordic Tyres distributes the range in the UK. At the moment Ceat doesn't supply its tyres to agricultural OEMs, but watch this space: Developments within the passenger tyre segment bear witness to Ceat's original equipment ambitions, and Anant Goenka, chairman of Ceat Specialty Tyres, says efforts to forge relationships with car OEMs will be replicated in the truck tyre segment in 2020 and then expand into the off-highway tyre business in the coming one to two years.
Goenka's colleague, head of R&D Dyutiman Chattopadhyay, stresses that Ceat is "much bigger" than its agricultural sector competitors in its home market of India – companies that have already established a presence in Europe. "We work with OEMs there and we want to internationalise that relationship, including in Europe. The market will see a lot of Ceat in the time to come."
Ceat agricultural radials, including products shown at Agritechnica 2019, are covered by a 7-year warranty