Ceat brings VF tech to Torquemax tractor tyre range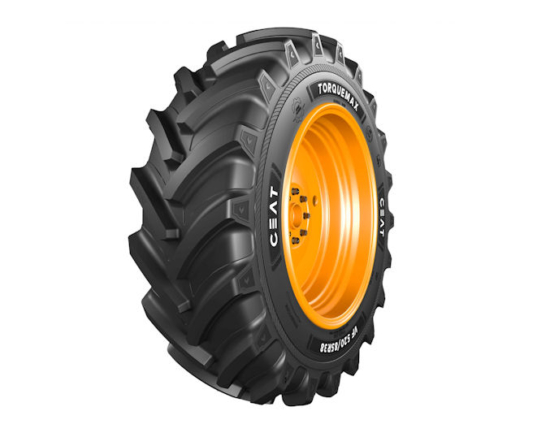 We first saw the Ceat Torquemax tractor tyre at Agritechnica 2019, and Ceat Specialty has now expanded the range to include very high flexion tyres. The Torquemax VF, aimed at "farmers investing in tyres that offer greater operational efficiencies" for their high-horsepower tractors, is available at launch in sizes VF 520/85R38 170 D TL and VF 710/70R42 185 D TL, with a VF710/75 R 42 tyre joining the range by the end of 2020.
Ceat Specialty describes the Torquemax VF as a "powerhouse performer" that is "equipped to deliver on all the VF technology parameters and more." The tyre's increased sidewall flexibility enables vehicles to carry forty per cent more load than a standard tyre at the same pressure. Alternatively, during field use the tyre pressure can be lowered by forty per cent compared to standard tyres, even when carrying the same load.
A lower pressure produces a larger footprint, which reduces compaction and hence improve yield. While insufficient tyre pressure and too high a load can quickly lead to damage for standard tyres, Ceat Specialty comments that Torquemax VF tyres feature a tough casing, sidewall flexibility and rigid belt that lower the risk of deformation and damage. In addition, the Torquemax VF tyre has a stepped lug tread design that provides excellent traction and reduced slippage, thereby improving fuel economy.
VF sprayer tyre arriving soon
The Torquemax VF is the first in a line of VF tyres that Ceat Specialty will launch in the near future. The company says we should stay tuned for an "exciting new range of VF tyres for sprayers." Other upcoming additions to the Ceat agricultural tyre portfolio include a new range of agro-industrial tyres and an addition to the flotation radial family.