Sustainability award for Continental's dandelion rubber tyres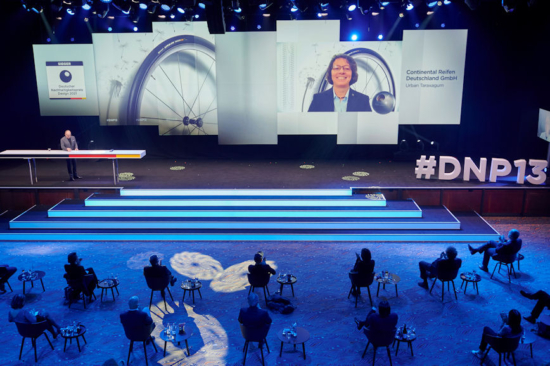 The German Sustainability Award project is hailed as "Europe's premier award for environmental and social engagement." Held annually since 2008 and oriented towards the goals of Agenda 2030, the multi-stakeholder, government-supported awards honour those working towards a more sustainable future. Awardees for 2021 include Continental, whose Urban Taraxagum bicycle tyre caught the judging panel's attention. The tyre is an award-winner in the Responsible Design category.
Continental and its partners cultivate, extract and process the dandelion rubber used within the Urban Taraxagum in Germany. Extracting raw materials locally removes the need for long transportation routes, thereby reducing CO2 emissions and conserving valuable resources.
"We are very pleased to receive this award," said Dr Carla Recker, who heads Continental's development project for obtaining natural rubber from dandelions. "The fact that we came out on top among 54 finalists shows that our Urban Taraxagum bicycle tyre is a unique product that contributes to the development of a new, alternative and sustainable supply of raw materials."
Local extraction minimises transportation
Continental says that in future it will strive to extract natural rubber as close as possible to the tyre plants that utilise this rubber rather than exclusively import the raw material from the tropics.
Continental released the Urban Taraxagum in 2019. It is the first serial product made with dandelion rubber that combines local production with minimal transport distances in the supply chain. Continental produces the tyre at its factory in Korbach, Germany. The company also operates a Taraxagum research laboratory in Anklam, near Germany's Baltic coast. Here employees from agricultural sciences, chemistry, production and process engineering cultivate the plants and also develop, build and operate machinery for testing the processing of Russian dandelions.
Wide range of applications
Taraxagum is a joint project between Continental and the Fraunhofer Institute for Molecular Biology and Applied Ecology (IME). The project's long-term goal is to industrialise the cultivation of dandelion rubber. Potential future applications include use in a wide range of products, including car, truck and agricultural tyres as well as technical rubber goods.
In addition to the IME, Continental works with other key project partners, including the Julius Kühn Institute and plant breeder ESKUSA. The European Union and German government support this network, as does the as the state government of Mecklenburg-Western Pomerania.