EC rates Fiege alongside Bosch and Bridgestone for second straight year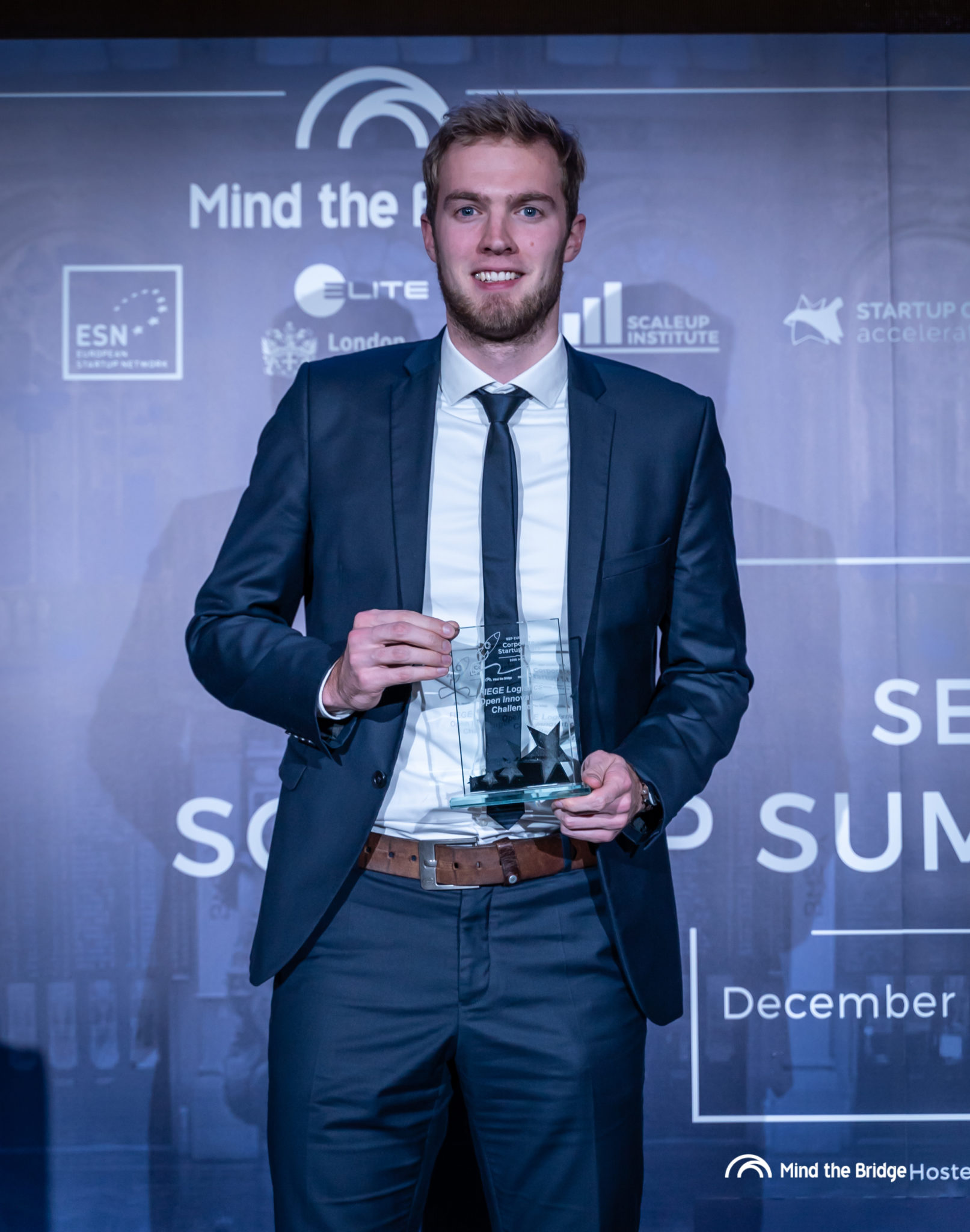 Startup Europe Partnership (SEP), an initiative by the European Commission, has distinguished Fiege as an Open Innovation Challenger. Having first achieved this standard a year ago, Fiege is being distinguished for the second time in a row. The annual ranking also includes multinationals like Google, Nestlé and Bridgestone. Next to Fiege, a further three German enterprises were distinguished: Bosch, Daimler, and SAP.
The annual ranking of the European Corporate Startup Stars is drawn up by Nesta, an innovation advisory firm, and the innovation foundation Nesta under the European Commission's Startup Europe Partnership initiative. 36 European enterprises were awarded in Madrid on 10 December.
"The fact that we may accept this award again is a wonderful acknowledgement of our journey to anchor innovation as a firm element in our corporate culture", says Michael Geers, Corporate Development, who represented Fiege at the award ceremony. "As a family-owned company in this long line-up of renowned multinationals, we feel pride in being distinguished as an innovator." Andreas Pott, Director Corporate Development at Fiege, emphasises: "Innovation is a strategic priority at Fiege and many people at our company drive this field. Our colleagues focus on new ideas at many of our locations, initiate pilot projects and even develop new business segments."
Mariya Gabriel, EU Commissioner for Innovation, Research, Culture, Education and Youth commented: "A sustainable eco-system of innovation in Europe requires both start-ups that are able to grow both dimensionally and internationally, as well as established corporates that are able to innovate."
Alberto Onetti, Chairman of Mind the Bridge and Coordinator of the Startup Europe Partnership (SEP) confirmed: "Open Innovation is finally taking off in Europe. We see more and more companies active in corporate venturing. However, it is hard to get it right. We believe that the companies doing this well should be recognised as trailblazers and hope that they inspire others to follow suit. That's why we gather data annually to identify and signal best practices."
During the award ceremony, Mind the Bridge and Nesta unveiled new research titled The Status of Open Innovation in Europe. This report leverages the data from the top 36 companies that have been recognised in Europe as active Open Innovation organisations. The report also provides an in-depth analysis on how innovation leaders are evolving the way to work with start-ups. More specifically, the research profiles the approaches to Open Innovation by assessing both internal conditions (strategy, organisation, processes, culture) as well as external outcomes (actions and results).
As far as tyre industry applications are concerned, Toyo uses a B2B e-commerce platform developed by Fiege. Leading tyremakers including Apollo Vredestein, Bridgestone, Continental, Falken, Hankook, Nokian, Toyo, Trelleborg and Yokohama have all used Fiege for tyre logistics.
The Fiege Group is headquartered in Greven, Germany. In 2016, the Group generated a world-wide turnover of 1.45 billion euros with a workforce of 12,338. The firm's 178 locations and co-operations are based in 15 countries and form its supply-chain network.