Price mix contributed more to Goodyear EMEA 3Q figures than Cooper Tire sales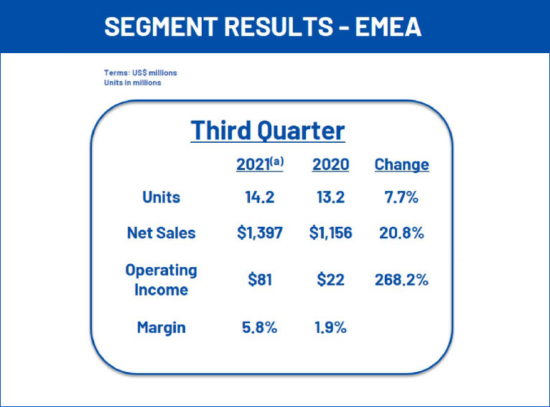 The completion of Goodyear's takeover of Cooper on 7 June this year brought with it the first indications of the scale of Cooper's sales in the Europe Middle East and Africa (EMEA) market. Before that point, Cooper only reported sales figures for their "International Tire Operations", which includes sales generated worldwide outside EMEA.
According to the company's third-quarter 2021 figures, Goodyear (including the recently acquired Cooper organization) achieved quarterly sales of US$1.4 billion in EMEA, which represents growth of $241 million or 20.8 per cent over the same quarter last year. Only around a quarter of Goodyear's growth in EMEA comes from the Cooper takeover, because Cooper contributed the comparatively small amount of $65 million dollars to this growth in the period from July to September, according to Goodyear filings.
Therefore, Cooper-originated turnover represents less than five per cent of the sales of the post-integration Goodyear EMEA organization. In contrast, improvements to product/price mix, contributed $128 million to the sales increase in EMEA – twice as much as what has been generated via Cooper following the takeover. For the sake of completeness, it should be mentioned that Cooper's entire International Tire Operations unit reported sales of $142 million in the third quarter of 2020.
Of course, the comparative size of the two US tyremakers in their home US market is completely different to the EMEA situation. Indeed, Goodyear's Americas region figures show that Cooper contributed at least $795 million to quarterly sales out of a total of $2.97 billion, which equates to 26.8 per cent.