Pirelli and Hankook rated on Dow Jones Sustainability Indices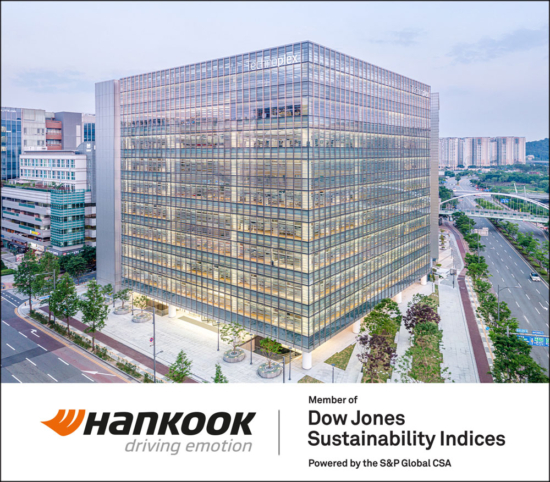 Tyremakers Pirelli and Hankook are amongst those rated in the latest Dow Jones Sustainability Indices (DJSI). Full results will be published on 20 November, but some details have been previewed already namely that Hankook has been recognized as the best-in-class sustainability leader in the (DJSI) World for the sixth consecutive year. Similarly, Pirelli scored maximum points in the social context for social reporting category.
The DJSI measures the performance of the world's leading companies in terms of economic, environmental, and social impact. Dow Jones' Indices are produced in conjunction with RobecoSAM, a Zurich-based investment specialist that conducts detailed sustainability research on thousands of global market capitalization leaders. This year's DJSI World list included 322 companies, which accounts for 12.7 per cent among the top 2,544 companies worldwide. Within this Hankook Tire represent the auto components industry.
In a statement on the news Hankook representatives said Hankook Tire has been "incessantly striving to improve the company-wide sustainable practices by sharing its vision with all executives and employees throughout eight different fields of expertise", adding:
"In 2018, Hankook began to further accelerate its ESG management by conducting sustainable natural rubber policies and E-Circle declarations. In 2021, the company has not only set up an ESG Committee within the Board of Directors but has also updated its sustainable rubber policy in alignment with the Global Platform for Sustainable Natural Rubber (GPSNR) policy framework."
A car sharing initiative is given as another example of Hankook's efforts. That project started in 2008 with an aim to support to social welfare institutions facing transportation difficulties. By 2021, the number of vehicles provided during the program's 14 years in running amount to approximately 630 vehicles total. The company has also undertaken the Tire Sharing Project to donate 27,054 tyres for 12 years since 2010 to social welfare centres for their business vehicle equipment.
Hankook was first recognized by the DJSI in 2011 and more recently has been on the list for the past six years starting from 2016.
Pirelli gets top marks in social context for social reporting
For its part, Pirelli achieved excellent results in the Automobiles & Components sector of the Dow Jones World and Europe Sustainability Indices with a score of 77 compared with the sector average of 31. Pirelli, according to the annual assessment conducted by S&P Global, obtained top scores in a number of sustainability management areas, particularly in governance and economics, policies regarding innovation management and taxation, environmental factors, environmental management and reporting and strategy against climate change. Finally, Pirelli was given the maximum score in the social context for social reporting, development of human capital and attracting talent.
Marco Tronchetti Provera, Executive Vice Chairman and CEO of Pirelli, said: "Being once again confirmed in the Dow Jones Sustainability Indices is an acknowledgement of Pirelli's commitment in this area and a source of pride for the company. For us sustainability is a business model, a strategy for growth and above all a challenge to continually improve in the creation of value for all Stakeholders."
Manjit Jus, Global Head of ESG Research, S&P Global, stated: "We congratulate Pirelli for being included in the Dow Jones World and Europe Sustainability Indices. A DJSI distinction is a reflection of being a sustainability leader in your industry. The record number of companies participating in the 2021 S&P Global Corporate Sustainability Assessment is testament to the growing movement for ESG disclosure and transparency."