MTS demonstrates evolving approach to complex UK tyre wholesale market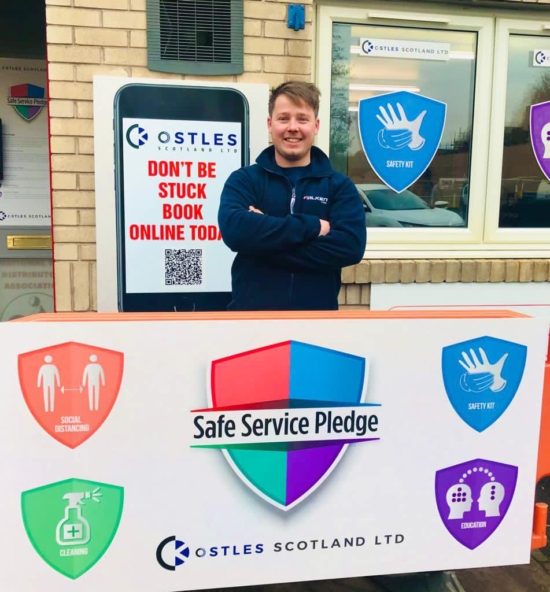 Tyres & Accessories speaks to wholesale director Graham Mitchell about the company's approach to business in challenging times
The complexity of the UK tyre wholesale sector has certainly ramped up considerably thanks to what may be termed an almost perfect storm of external factors relating both to the Covid pandemic and Brexit. With retail margins on consumer tyres already very fine, the wholesale sector has been key in keeping price increases under control, especially considering the spiralling cost of shipping. But as those in the sector know, the value wholesalers add within the distribution chain is a considerably wider subject than purely price. Arguably, the service dimension has never been more important than in the last 18 months, as retail businesses adapted to a market transformed by externalities. Tyres & Accessories asked Graham Mitchell, Micheldever Tyre Services wholesale director, about how the business is faring in 2021, starting with its performance this year.
Tyres & Accessories: While MTS dealt relatively successfully with last year's interruptions to overall passenger car tyre market demand, can you give us some details on how 2021 is shaping up for you? Are there particular segments that have come back better than others? Any that are still not performing well?
Graham Mitchell: So far 2021 is shaping up well and, given our performance throughout 2020, we set realistic but ambitious targets that by the end of August have been achieved. The van segment remains incredibly strong, but the real surprise has been the off-road market.
Some of this has been driven by competitor shortages, but an increase in demand supported by considerable activity in this segment has seen a record first six months for MTS on both AT and MT tyres. The logistical issues that all industries are currently facing continue to pose a challenge and this will put pressure on the second half of the year. It has also been a very difficult market to predict – with the expected quieter months being strong and the typically busier ones, less so.
T&A: How are logistics issues like high container rates and continuing delays affecting you? 
GM: The costs are rising across the board, not just on containers, but in ports and inland freight as well and some of this has been reflected in higher tyre prices. We have a reasonably well-balanced portfolio of brands and a lower pure Chinese budget mix than many of our competitors. Whilst we are not immune to the challenge, we are managing them well, although some things, like Covid in factories and ports, are outside of our control and will cause inevitable shortages.
T&A: How is MTS managing rising costs brought about by high raw materials prices? Is the current stabilisation helping the situation? 
GM: Unfortunately, we are facing a triple whammy of material cost increases, labour cost rises and freight increases throughout the supply chain. However, we do remain focussed on our partnership approach with suppliers and with their support, we have minimised the impact on our customers.  Despite these mitigating efforts, tyre prices though are likely to continue to rise through the remainder of 2021 and into next year.
T&A: What effects are emerging from Brexit for MTS? How do these logistical and cost headwinds interact?
GM: There is no doubt that operations at this time are more complex than they have ever been. Brexit to date has had a relatively low impact on our business, whereas by contrast Covid has been much more impactful and continues to complicate operations throughout the company.
Support for tyre dealers
T&A: What changes has MTS made to its support for its tyre retail customers during the transition out of anti-Covid measures? How is the experience with Protyre helping to inform how MTS assists independent retailers?
GM: MTS's partnership approach to supporting its independent tyre retailer network has been very much to the fore during the pandemic. In direct response to the COVID19 crisis, MTS introduced the 'Safe Service Pledge', a range of measures designed to go beyond the UK Government's Staying COVID-19 Secure in 2020 guidelines, by demonstrating best practice in key areas. It focuses on vehicle cleansing, hand sanitising, social distancing and use of appropriate PPE and safety kit and how to market these processes correctly to provide full customer reassurance.
It's been well received by tyre retailers, who have used the Safe Service Pledge effectively to reassure customers that business sites are COVID secure. This has in turn helped with customer retention, encouraged customers back into the physical retail environment and drove business recovery.
Further MTS support to dealers includes adapting our training programme, from an on-site face to face model to one that is delivered remotely and online. It's resulted in a huge raft of training modules being made available to our network throughout the pandemic, enabling tyre retailers continue to take up the opportunity to develop insight and knowledge that can benefit their business.
MTS also continues to offer business advice and support to dealers, working with them to develop local marketing initiatives, including e-mail retention campaigns, TyreClick promotions paid for by MTS and local sponsorships, to help drive business recovery. This extends to sharing best practices learnt from Protyre and other partner organisations.
T&A: How is MTS preparing for the growth in electric vehicle tyres over the long-term? Are there ways you are supporting your dealer network with this transition? How important is this for the future, and are you encountering some resistance to change on the basis of the relatively small current proportion of the car parc that is electrically powered? What is your message to retailers who want to strategise smartly for the growth of EVs?
GM: We have already developed a training module for EV tyres, which provides detailed evaluation of the market and the implications it has for tyre retailers. We have used this so far to train all our staff internally and are preparing to roll it out to our customers in 2022.
While volumes remain low, tyre complexity and demand is growing and tyre retailers are on the whole recognising that. Working directly with all of the premium manufacturers we have already built a very comprehensive stock position and continue to add to our offering as the market demand dictates. Like MTS's approach with other market segments, we are focused on developing a position of market leadership in availability.
T&A: What other dealer initiatives has MTS introduced this year?
GM: MTS has recently launched a new 4×4 dealer accreditation scheme, aimed at specialist tyre retailers within the network.
The new MTS 4×4 Tyres and Wheels scheme provides a package of marketing and training support designed to facilitate business growth and enable the accredited dealers on the scheme to develop their position as 4×4 experts in their local community.
As part of the training package, accredited dealers will have access to MTS's training team for product and sales skills training, MTS' 4×4 technical specialists and an invitation to a one-day technical training and driving event.
The technical training and driving event is also part of a wider dealer engagement events programme currently being rolled out by MTS. This has so far included a Falken Palmer Sports two-day track day event, GT Radial day at their Fun Cup race series and a MIRA test track day, with more scheduled in as part of the programme.
We have also invested in developing a new specialist technical support division. This utilises over 100 years of unrivalled industry experience and expertise to provide specialist technical advice across the 4×4, motorcycle and classic car tyres segments.
Another key part of MTS's support to dealers this summer, has been the welcome return of the national and regional UK countryside agricultural events programme. This includes attendance at the Game Fair, at Ragley Hall, Warwickshire where MTS's 4×4 team supported dealers by providing advice and expertise to nearly 120,000 people who visited the event.
Finally, we are scheduled to launch a new mid-range tyre brand soon into the network, with more details to follow on this in the near future.