Bridgestone Tyre Industry Awards double 'a huge coup'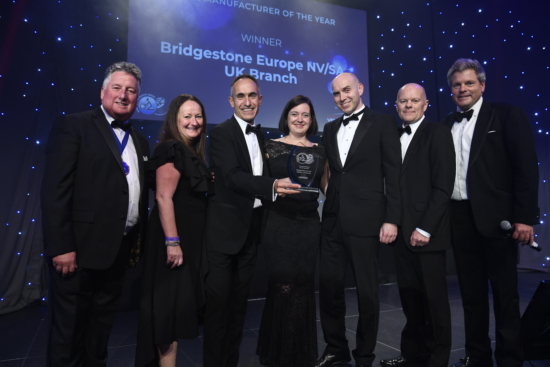 The two Tyre Industry Awards presented to Bridgestone during the National Tyre Distributors Association's 7 October ceremony represent a "huge coup" for the company according to Andrea Manenti, North Europe region vice president. The manufacturer said the awards were the result of its recently launched "best-in-class new products" and its "commitment to a sustainable future and staff training." Bridgestone was presented with the Staff Training & Development accolade and the headline Tyre Manufacturer of the Year award – the fourth time they have triumphed in the category since 2015 – at a packed International Convention Centre in Birmingham.
The staff training award recognised Bridgestone's ability to adapt to the challenges posed by the Covid-19 pandemic, offering a more comprehensive programme. It is the fifth time that Bridgestone has scooped this award.
The Tyre Manufacturer of the Year accolade recognised Bridgestone's positive developments and achievements, including the ultra-high performance Potenza Sport tyre (which has recently won AutoBild sportscars' 2021 sports tyre test) along with a number of sustainability and mobility solutions.
Bridgestone managing director Andrea Manenti said: "Winning these two NTDA awards means everything to us. It has been a challenging 12 months for everyone, but we were able to keep evolving as a business and it is a huge coup for our collective efforts to be recognised in this way."
Stefan Hay NTDA chief executive said: "The judges were, once again, impressed by Bridgestone's work in the tyre industry and its investment in products, solutions and training provision which, in such challenging times, is certainly a significant achievement.
"These awards are further endorsement of the hard work the Bridgestone team is doing to lead by example in the UK tyre industry!"