Autogem 'an indispensable aftermarket partner' – Tyre Industry Awards 2021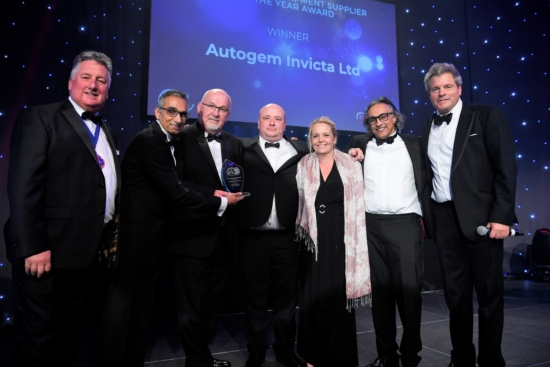 Autogem has been praised as "an indispensable partner in the aftermarket to a great number of businesses" following its victory in the Tyre Industry Awards 2021 Aftermarket Equipment Supplier of the Year category. The UK provider of automotive chemicals, fasteners, hand tools, workshop consumables, and TPMS solutions was recognised for its adaptation during the pandemic as well as its investment in products and training support.
"To win this NTDA award is such a huge achievement for us all and one we're all so proud of," said Autogem managing director Prashant Chopra. "The team already knows how incredibly proud I am of them and without them, none of this would have been possible.
"It has been a tough year for the industry, but we had an unwavering belief in our own solutions, our team and our customers. There's a phrase that tough times don't last but tough people do, and this award reminds us of this.
"We are fortunate to work with some incredible companies doing amazing things in the automotive industry. We also work with some brilliant supplier partners too, who are not only invested in our company and philosophy but are an indispensable part of the team."
Autogem has continued to develop its business over the past 18 months despite the challenges posed by Covid-19. It has brough new solutions and support to the market – all of which are designed to save time, add a sense of professionalism and create additional revenue streams for customers. The company has developed new products, expanded its training provision, product portfolio and customer support, supplemented by IT systems and an infrastructure to provide added value services.
In the last year, Autogem introduced its new I-sensor Pro TPMS solution to the aftermarket in a significant investment, highlighted as a key factor behind its awards success by the NTDA. The I-sensor Pro features Wi-Fi connectivity, wireless Bluetooth and an integrated auto-focus camera, allowing for instant, personalised tyre pressure reporting. The updated handheld device also features a completely integrated tread depth measuring device to give technicians the full picture of the condition of each tyre they are tending to – all on an easy-to-read colour screen.
Stefan Hay NTDA chief executive said: "The judges said that Autogem brought a number of successes to life in the award entry and it was clear the business has evolved massively, despite the challenging conditions the trade has recently faced.
"In particular, the investment in products and training support really impressed the judges who said that it was clear that Autogem has become an indispensable partner in the aftermarket to a great number of businesses."