Bridgestone technologies, partnerships pushing forward EV tyre development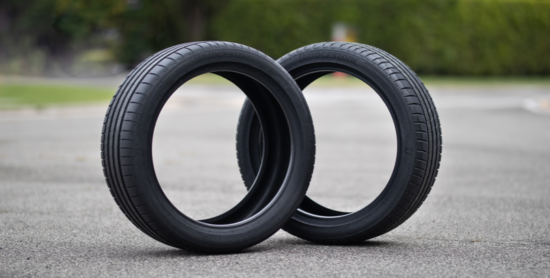 Bridgestone has developed a broad range of technologies and partnerships designed to address the coming wave of electric vehicles. The tyre manufacturer has said its tyre range for electric vehicles will make up one-fifth of its original equipment range by 2024. These tyres contain several technologies that Bridgestone has been developing over the last few years. It worked with BMW to develop dedicated tyres for the i3, i3s and i8 EVs, with its proprietary ologic technology. Ologic offers rolling resistance and aerodynamics benefits. Bridgestone's Enliten technology meanwhile helps to reduce the weight of tyres by 10 per cent without compromising on wear life – rolling resistance can be reduced by up to 20 per cent, according to the company.
Due to the 'tall and narrow' Ologic concept, this technology can only be deployed when the original equipment manufacturer designs a vehicle that can package such a tyre size. As a result, Ologic is normally deployed on new vehicle designs.
Enliten combines a proprietary compound mix that enables improved wear performance and a decreased tread depth, a reduced and reinforced inner liner thickness, and a new dedicated mould design concept. This improves rolling resistance without affecting other characteristics, lengthening range. Bridgestone can apply Enliten to its existing car tyre lines.
Bridgestone is also pursuing projects to ramp up its electric vehicle tyre knowledge. One example is the Turanza Eco tyre specially engineered for Lightyear One, the world's first long-range solar electric powered car. The shared focus on sustainability builds upon work together for the Bridgestone World Solar Challenge.
Bridgestone developed custom-engineered Turanza Eco tyres, combining Enliten and ologic technologies to reduce weight through the use of fewer raw materials throughout the manufacturing process, while cutting rolling resistance through innovative tread, larger diameters, high inflation pressures and slim design. The very low rolling resistance of the tyres also means Lightyear One can benefit from a lighter battery. As a result, the Turanza Eco tyres are designed to boost range when compared to alternative Bridgestone EV-specific tyres, equivalent to more than a 90kg reduction in weight.
The tyre's silica dispersion has been improved by applying a new mixing technology; there is a 3.6kg (around 10 per cent) overall reduction in the tyre's weight per vehicle, without any compromise on mileage and grip.
Bridgestone also launched Techsyn recently – a new tyre technology co-developed with Arlanxeo, which enables tyres to deliver unrivalled strength and environmental performance. Finally,
Bridgestone addressed the need for low tyre noise with B-Silent technology, a sound-absorbing sponge inserted inside tyres to dampen the cavity noise produced because a tyre is internally empty.
Bridgestone on the use of EV tyres
Tyres & Accessories asked Bridgestone technical manager Gary Powell whether motorists should fit only specialist EV tyres on electric cars. He said Bridgestone "always recommends fitting the original equipment." He explains: "This is why Bridgestone invests millions of euros in OE development, which is a marketplace that pushes the limits of innovation, as global original equipment manufacturers demand the highest limits of performance…
"However, with regards to EV vehicles, the demands on performance are even greater, with increased loads due to battery weights, higher torque from EV motors and battery range requirements. Therefore, selecting the OE fitment is even more important, as it's not just the DNA of the vehicle we need to consider but the impact the tyre has on battery range, as this performance can be clearly measured by a customer. It's also a performance parameter that a customer really values, as any deficiency in this item will generally lead to dissatisfaction and inconvenience (not reaching their destination on a full charge as previously experienced with their past OE tyres)."
Bearing in mind the specific requirements of EVs, Tyres & Accessories asked Powell whether there should be a legal requirement to fit specialist tyres on electric cars. Powell said: "Personally I would use the carrot rather than the stick. I do not believe that a law is necessary. It's just a case of delivering premium EV products that deliver performance, convenience and above all safety." He adds that Bridgestone's continual research and development investment allows it to "deliver ultra-low rolling resistance products… with optimum safety in both dry and wet performance. By using OE development to drive our innovation, we hope that the end customer receives complete satisfaction and returns to purchase more of the same. This is how we convince people of our premium tyre products, by customer satisfaction and not the stick."