Kirkby investing in stocks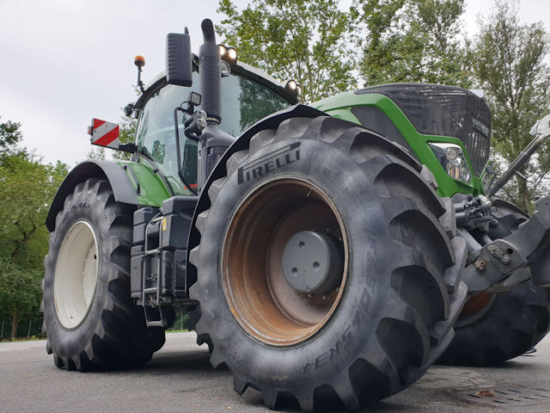 We've emerged from lockdown into a market environment of rising raw material prices, a global imbalance of containers and exploding shipping costs, not to mention continuing port disruptions. These combined factors have already led to higher tyre prices and product shortages in some instances, but the extent to which customers are affected can be tempered by good stock management.
While Michael Rosenthal from Kirkby Tyres describes the COVID-underpinned cocktail of difficulties experienced since early 2020 a "perfect storm" that's created significant challenges, he emphasises that Kirkby is working to lessen its impact and to support its customer base by constantly replenishing and holding good stocks of the most common agricultural and industrial sizes.
As one of the largest agricultural specialists in the UK and Ireland, with the bulk of its more than 6,500 SKUs catering to this sector, Kirkby sees itself as well-positioned to satisfy customer demand, even in difficult times. The wholesaler carries multiple brands, enabling it to cater to a range of requirements and budgets.
High market acceptance for Pirelli
Its key offer within the premium segment is Pirelli. "We've served as exclusive UK and Ireland importer of Pirelli agricultural tyres since the brand returned in 2017," comments marketing director Rosenthal. He says the Pirelli range has been well accepted within the market, aided by a growing number of SKUs.
The first Pirelli agricultural line to arrive was the PHP pattern R1-W range. Rosenthal comments that 85 series products are particularly popular; Kirkby now offers 13 sizes here, from a 24-inch tractor front to a 42-inch rear fitment. It also offers 13 fitments in 70 series, from 28- to 42-inch, as well as 65 series tyres for high-powered tractors.
Brand manufacturer Prometeon is now in the process of introducing IF and VF products. Two high-volume IF dimensions, IF 650/65R34 PHE:65 161D and IF 710/75R42 PHE:75 176D, have already arrived in the Kirkby range. "People remember Pirelli name and the brand is slowly but surely gaining traction. VF sizes will be exciting, as then we'll be able to offer a premium option for all applications."
Helping customers take advantage of VF
Noting that a large part of Kirkby's ethos is to "maintain long-term relationships with our suppliers and to cooperate with them in order to develop and bring to market innovative products that meet the requirements of our customers," Michael Rosenthal points out that the awaited Pirelli products are by no means the only IF and VF tyres on the wholesaler's radar. Kirkby currently stocks solutions for the radial flotation and agricultural implement segments, along with tractor.
"We are well-positioned to help our customers present this technology to farmers to allow them to take advantage of this technology by increasing their yields and reducing operating costs. We also support them regarding local government/farming initiatives that aim to subsidise sustainable farming techniques, such as the SACGS (Sustainable Agriculture Grant Scheme) set up in Scotland last year." Key products here include the Alliance Agriflex 372+ and BKT Agrimax V-Flecto.
6 decades with Alliance
The first of these is the flagship product for a brand that Kirkby Tyres has offered for over 60 years and currently distributes exclusively throughout the UK and Ireland. Now a Yokohama OHT brand, Alliance covers a comprehensive range of tractor, trailer, implement and tanker tyres.
As reported in our January magazine, during independent testing the upgraded Alliance Agriflex 372+ VF pattern delivered good results for fuel efficiency, traction, slippage, and footprint when tested against premium competition. Kirkby stocks the range in 28 SKUs for 28- to 42-inch, covering popular 85, 70 and 65 series fitments, with D speed rated versions available.
Kirkby is also now seeing good market uptake for the Alliance AgriStar II, a product it launched at LAMMA 2020. This range is the subject of a series of videos made with Tom Pemberton Farm Life; Pemberton fitted a set to his aging Huerlimann tractor and found that the AgriStar II "revolutionised" its performance. "We're seeing a fantastic response from these videos," comments Rosenthal. It's a similar story following the collaboration with Ireland's IFarm WeFarm.
The marketing director considers Alliance a "global leader in flotation radial tyres" from the time these products first appeared. He shares that Kirkby recently collaborated with the manufacturer to develop the new 560/60R22.5 590 169D HD steel belted TL – heavy duty flotation radial tyre for agricultural trailers, agricultural dump trailers and slurry tankers. In addition to featuring an updated pattern, the Alliance 590 offers "industry leading performance" – specifically the highest load speed index available – as well as a 10-year warranty, which is the longest in the market.
In addition to agricultural ranges, Kirkby carries common plant and industrial sizes, such as Alliance Tough Trac in 400/80-24 and 440/80-24, as well as a newly-released Alliance 585 pattern that is now fitted as original equipment on the Manitou range of MLT NewAg and NewAg XL telehandlers in 400/70R24. Also available in the popular agro-industrial size 460/70R24 used on telehandlers and backhoe and compact loaders, the 585 pattern has been developed to allow versatility in operating conditions, providing comfort and good handling on both road and off-road conditions.
Investing in BKT inventory
Those looking for VF tyres can also select products from the BKT range, for which Kirkby Tyres is a main UK importer. Michael Rosenthal comments that very few manufacturers outside the small circle of premium tyre makers produce a broad line-up of VF products, and the presence of numerous sizes in the BKT as well as the Alliance ranges thus serves as evidence that both offer a "very high level of quality."
Kirkby currently stocks 23 SKUs of the flagship BKT Agrimax V-Flecto VF range and will add to this going forwards. Agrimax V-Flecto VF is designed for high-powered tractors and D-rated rated for 40mph or 65 km/h capability, and is available in NRO (narrow rim option) dimensions that eliminate the need to replace rims when upgrading from non-VF tyres.
BKT is now expanding its VF technology into other product segments, such as radial flotation. Rosenthal: "BKT is at the forefront of tyre innovation and development. For example, we are now stocking the new VF 560/60R22.5 BKT V-Flexa 166D." The marketing director comments that BKT developed this VF radial flotation tyre in response to demand for low pressure agricultural flotation tyres suitable for use on agricultural trailers and tankers. This tyre works with lower pressures, increasing the footprint and thus reducing soil compaction and increasing yields. Lower rolling resistance also results in better fuel economy.
The wholesaler has also invested in stocks of common BKT Earthmax dimensions. This renewed focus on the Earthmax range of (E3/L3, E4, L5) OTR tyres means that Kirkby now stocks more than 40 different patterns for applications including snow, aggregates, mud and earth, rock, recycling and underground mining, such as the "ever-popular" BKT SR 30 and SR 31 Earthmax patterns in the most common sizes of 15.5R25, 17.5R25, 20.5R25, 23.5R25, 26.5R25 and 29.5R25; these are E-3/L-3 all-steel radial tyres designed for wheel loaders and ADTs, and are constructed with heat-resistant and cut-resistant compounds to prolong tyre life. Kirkby has also recently expanded its range to include the new BKT Earthmax SR 35 pattern, suitable for dumpers and available in some of the more recent metric sizes; 650/65R25, 750/65R25 and 775/65R29.
MRL: Value without sacrificing quality
MRL is the value choice within the Kirkby brand line-up, with a range that includes cross-ply and radial fitments for tractors and agricultural implements. The wholesaler has been working with MRL Tyres for over 15 years now and is the exclusive importer for the UK and Ireland. It has enjoyed continued success and market penetration with the 2020-launched 560/60R22.5 165D/162E steel belted tyre in the popular FLR 333 and FLR 335 agricultural trailer patterns. As Rosenthal explains, the 333 is a road-going pattern whilst the open-centre style 335 is "perfect for wet conditions in the field." Both are steel belted for extra puncture resistance and added strength to the casing.
For those customers looking for a "value proposition without sacrificing quality," Kirkby also offers the 800/65R32 MRL Mega Sol RRT650 181A8/178B TL for single axle slurry tankers. The marketing director comments that thanks to its modern tread design that provides great self-cleaning abilities whilst in the field, this tyre is hugely popular.
Practical & humanitarian response to crisis
At the time these words were written at the start this month, the composite World Container Index compiled by UK-based maritime research and consulting specialist Drewry Shipping Consultants reported new highs in 40-foot container shipping prices. Customers in Europe have borne the brunt of increases over the past year; spot freight rates between Shanghai and Rotterdam, for example, hit $12,203 on 1 July. This represents a 567 per cent increase in rates over the past 12 months.
It's a similar story for anyone based in the UK. Rosenthal speaks of a 500 per cent increase in freight rates to $15,000, with prices are still rising. Product lead times are up too, increasing from three months for a typical agricultural tyre to six or even nine months.
"Kirkby have implemented COVID safety procedures and protocols within the business itself to ensure the safety of our own staff and continue to work with our delivery partners in a similar fashion," shares Rosenthal. "Operating through the pandemic has, for example, allowed us to successfully continue to supply the multiple OEM's that are providing vital farming equipment to ensure that the food supply chain has not been interrupted throughout covid and (prior to that) Brexit."
Kirkby Tyres has responded to disruptions resulting from COVID-19 in practical ways, for example by investing in cloud-based technology that facilitates remote working. The wholesaler is also in the middle of a major computer system update that will allow for better inventory control and better stock visibility for customers. But the pandemic also has had a human side to it; Rosenthal shares Kirkby Tyres' activities in this area.
"Our supplier BKT has always been extremely proactive with corporate social responsibility and is very charitable through its own BKT Foundation. We at Kirkby Tyres became aware of what was being done through the BKT-Akshaya Patra COVID food Relief project and wanted to contribute to this effort. We had the idea of contributing financially, as a direct donation would make a difference on the ground there, such as providing more meals for those effected. This initiative was then also taken up by fellow BKT distributors across Europe.
"We have to keep in mind that our products are produced elsewhere by people who are also being hard affected by the pandemic," reflects Rosenthal. He adds that to-date, families and unemployed workers in construction and agricultural industries throughout India have received more than 60,000 food grain and personal care packages.