Hankook & Company signs MOU with KAIST to build data infrastructure platform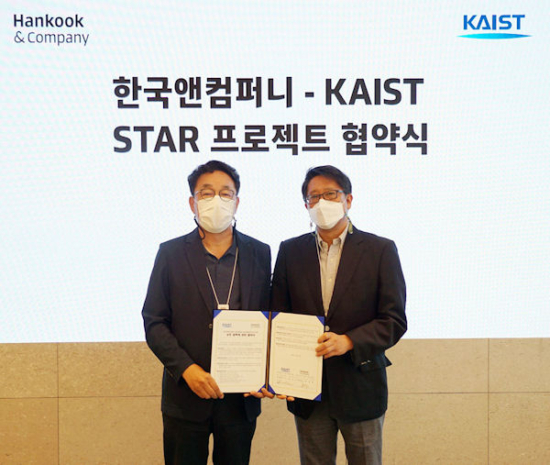 Hankook & Company Co., Ltd., the holding company of Hankook Tire & Technology Co., Ltd., has expanded its cooperation with the Korea Advanced Institute of Science and Technology (KAIST) through the signing of a memorandum of understanding with its College of Engineering. This latest MoU centres on the 'Symbiotic Transformation for AI-infused Reality (STAR) Project' and seeks to "build a data infrastructure platform and strengthen cooperation in researches for the post-AI age." One potential outcome of this collaboration is that data will later be used in Hankook's tyre research and development.
The signing ceremony took place on 25 June at Hankook & Company's headquarters, the Hankook Technoplex in Pangyo, South Korea.
KAIST is considered the leading science and technology university in South Korea. It launched the 'STAR Project' in order to create an innovative open data platform in line with the transition to a data-centric society, with shared consensus between Hankook & Company and KAIST on the need for new value creation in the area of data collection, analysis and sharing.
Systemic & mutually-beneficial model for industry-academia cooperation
Through the partnership, Hankook will provide support in preparing a virtual testbed and a real-virtual symbiosis testbed as well as in building a converged data cloud sharing platform that KAIST College of Engineering is pushing forward. Hankook & Company, by leveraging its digital capabilities to the full extent, aims to promote this project as a systemic and mutually beneficial model for industry-academia cooperation.
In the meantime, Hankook & Company's major affiliates, including Hankook Tire, will carry out pilot programmes to promote smart life, smart factory and smart mobility utilising the data sharing platform once the project is completed. Hankook's affiliates will seek out opportunities to cooperate in various fields such as application of the real-time road traffic data analysis to the environmental field, and use of real-world driving records and traffic accident type data collected in tyre research and development.
Step up to the next level
Hankook & Company has partnered with KAIST for some time now. In 2019, the partners jointly established the HK-KAIST Digital Innovation Center and have been accelerating R&D and digital technology competence through digital transformation since then. In May this year, they extended the agreement to continue the centre's operation to further cooperate on the joint study, which will help secure future growth engines and technology-based innovation capabilities.
"By continuously demonstrating best practices for academia-industry cooperation that benefit both parties, Hankook & Company with KAIST is setting up an exemplary win-win model," comments Seyeol Ryu, the executive director of Hankook & Company's digital strategy team. "We will continue to put our utmost efforts to strengthen research capabilities in digital technologies that will lead the future."
Dongman Lee, dean of KAIST College of Engineering, adds: "If we can build an experimental testbed platform within Metaverse (convergence of virtual world and reality) through data sharing, which will accelerate industry-academia cooperation for new technology development, it will, in turn, allow us to provide on-site industrial training programs for fostering talent for the post-AI era. This will be an excellent opportunity for both university researchers and businesses involved to step up to the next level to further enhance its competencies."