50 years of British retreads: Bandvulc marks half-century at forefront of sustainable production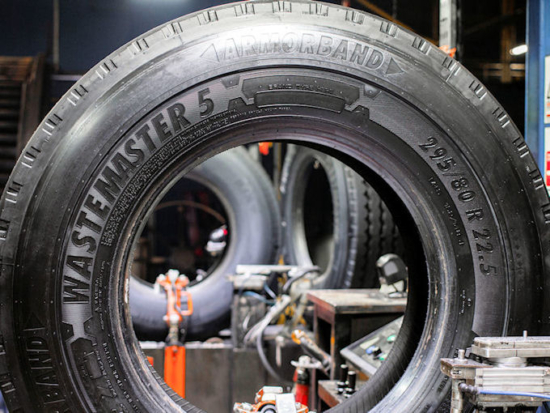 The importance of retreading as part of the circular economy is well-known in 2021. But when Devon-based Bandvulc started reusing rubber to make retread tyres back in 1971, sustainability was neither part of our everyday vocabulary, nor a standard manufacturing practice. 50 years on from its humble beginnings retreading just 30 tyres a week purely for local use, Bandvulc has grown to become the UK's foremost tyre retreader, producing one premium quality retread tyre every three minutes to serve commercial vehicle customers across the country. To mark its half-century in operation, and five years on from Bandvulc's acquisition by Continental Tyres in 2016, Tyres & Accessories looks back on the company's history of pioneering retread technology, prolonging the lifespan of tyres, reducing waste ending up in landfill, and contributing to lower carbon emissions in tyre production, driving sustainability as it moves into its 51st year.
Bandvulc now offers more than 100 different retread patterns and sizes all developed and manufactured in its UK plant, with a diverse product range. The company produces quality retreads for commercial vehicles of all types, from the long-haul Fleetmaster and Fuelmaster ranges, to Big D on/off road construction tyres and Wastemaster specialist tyres for the waste collection sector. On top of this, the Ivybridge factory also produces many of the Continental branded ContiRe retread tyres for the UK and Irish markets.
Even with such a broad offering, Bandvulc place sustainability at the heart of all operations. "The essence of what we are doing is stopping tyres going to landfill," says Tony Mailling, operations director at Bandvulc.
"Every Bandvulc or ContiRe retread tyre we produce saves 80 per cent of the materials required to manufacture a new tyre, therefore significantly reducing the impact on the environment. This means we are able to save 30kg of rubber compound, up to 20kg of steel and 60kg of CO2 on every retread tyre produced compared to a new tyre."
Tony Mailling says the processes at the Ivybridge site are continuously developed with sustainability in mind. "It was unusual when the company started to retread tyres, yet Bandvulc saw a place in the market for recycled tyres following their successful use with local customers here in Devon. Now however, reducing emissions is a central point of operations for us, and today we continuously look at new ways to reduce our environmental impact, which our customers really appreciate."
"About 70 per cent of our waste is recyclable. We work with a local contractor in Exeter who has a zero to landfill policy – so everything is completely recycled or incinerated. We are proud of the fact that nothing goes into landfill from Ivybridge."
Customers first
Bandvulc's business model, centring on the needs of its customers first, has remained unchanged since it opened its doors 50 years-ago. Tony Mailling explains: "Customers may want a tyre for vehicles used for waste collection from rural or urban areas, or for supermarket trucks which will travel mainly on motorways or even for construction or tipper truck tyres, which need to be really hard-working. In all of these instances, we are able to engineer the tyres for each application – we have the ability here to create a bespoke product and have always put the customer's needs first."
The 2016 acquisition by Continental saw mutual benefits for both brands, which had an existing 25-year working relationship with Bandvulc producing Continental branded ContiRe at the Devon plant since 1995. Significant investment into the site's facilities as part of the alignment of the brands, including process expansion, robotics, compounding equipment, automation, streamlining materials handling processes and supply chain integration.
Bandvulc and Continental Group tyre lines are now fully integrated as part of Continental's commercial vehicle offering, with both brands combined within the UK-wide Conti360° Fleet Solutions, offering tyre contract management, maintenance scheduling, casing management and roadside recovery, all managed under the Conti360° umbrella.
David Smith, managing director for Continental Tyre Group, said the acquisition was a logical step for the brands, and good news for UK and Irish customers keen to diversify tyre contracts to include retreads. He said: "The strong partnership with Bandvulc has continued to develop over the last five years as part of a planned integration, which draws on existing synergies between Bandvulc and Continental and under which shared expertise for the benefit of customers is our norm. For example, the integration of our casing management and inspection processes has led to capacity increases, meaning we can be incredibly responsive to customer need."
"The retread market is one of growth, as fleets now understand the quality products available and the benefits retread tyres can offer, so it is of great benefit to Continental to include an established UK-based retread production in our portfolio. We are able to readily supply our customers with a broader range of quality retreads from the Bandvulc tyre line, which complement and add value to the Continental range."
From Bandvulc's infancy, technology and innovation were championed. Tony Mailling says, "Bandvulc always knew that if we were to be able to produce a tyre to meet its customer's diverse needs, it would be through the development of in-house production capabilities."
"This is not just about ensuring state-of-the-art production lines to manage the volume of tyres we produce in a sustainable way, but starts at the very beginning of the process, with the development of the rubber compounds. Continental shares this understanding, and as such our product ranges continue to thrive in a busy market."
Tyre development and the future
The rubber compounds for Bandvulc products are fully developed and mixed at its in-house testing laboratory Bandvulc Mixing, situated on the same industrial estate as the main plant. The lab has allowed the company to develop and test tyres on site. But it has also opened a vital two-way technology sharing model with Continental's research and development engineers in Stöcken, Germany. Together, the companies are working to create durable tyres to meet the hefty demands of commercial vehicle applications.
Tony Mailling says: "Having our lab situated just a mile away from the main factory was unique during our time as a smaller business. Now we are part of Continental, this is further to our advantage, and we are able to work closely with the Continental research and development teams in Stöcken, sharing information in both directions to create some really innovative solutions to meet our customer's needs."
But for Mailling, this investment is only half the story. He credits the development of its 300 strong manufacturing workforce as another key to the brand's success. He says: "We mark our 50th anniversary with many employees able to count their association with the company in decades rather than years, and we hope to celebrate with staff and our customers later this year."
"We invest to ensure the tyres we produce deliver exceptional levels of quality and performance, we are quick to respond to customer needs, and we invest in training to ensure our people have the right skills for each area of production. It is the combination of these elements which keeps Bandvulc operating as a family business even 50 years on."
Looking to the future, Bandvulc has in the pipeline new tyres in development to update and refresh the range as well as address new requirements. The latest generation of the successful Wastemaster range is due for launch later in 2021, for example. Both companies firmly believe demand for retreads, as part of tyre contracts for commercial fleets, is set to remain buoyant, with operators keen to reap the benefits of this more economical and sustainable option.
Bandvulc and Continental are currently managing more than one million wheels a year via the Conti360° network. The companies have renewed contracts worth more than £10m in the last 12 months from a mix of logistics, retail, rental and contract hire and waste and recycling customers. The business has added significant new volume as customer expectations for sustainable product and environmental efficiency is met by the Ivybridge production facility.
David Smith says: "Operators understand the benefits quality retreads such as Bandvulc or ContiRe can offer. Continental have the technology to create premium tyres, each designed and built with the ability to be retreaded in the future. With Bandvulc we have local retreading expertise and efficiency and with our Conti360° Solutions and network of service providers we can offer professional tyre management to ensure customers continue to get best value from these tyres, which all have a positive impact on lowering overall operational costs."
"As the spotlight continues to shine on sustainable practices, commercial vehicle operators will be looking to how they can minimise fleet costs and lower emissions – for us the answer is simple, retread tyres."