Tyre industry suppliers Nynas, Cabot and Evonik amongst top EcoVadis ratings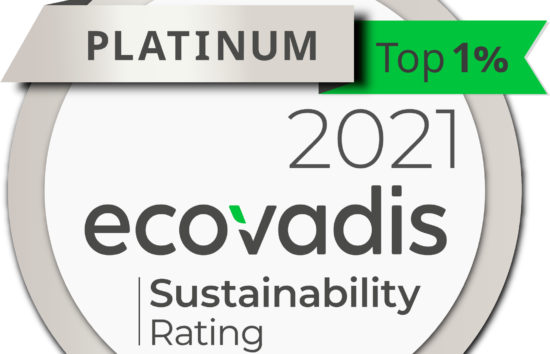 Upstream suppliers to the tyre manufacturing industry Nynas, Cabot and Evonik have received some of the top ratings in the 2021 EcoVadis auditing process. Specifically, these three firms all ranked in the top 1 per cent of their peers, earning platinum status. Meanwhile, carbon black supplier Birla Carbon received the EcoVadis' gold accreditation.
EcoVadis is an independent assessment organization that evaluates companies' sustainability performance in the areas of environment, labour practices and human rights, ethics and sustainable procurement. Their methodology is based on international sustainability standards including the Global Reporting Initiative, United Nations Global Compact (UNGC) and ISO 26000​.
For its part Nynas pointed to its transparent systems and processes as well as products as being behind the news: "We are pleased to have been awarded a Platinum rating from EcoVadis, after having scored Gold for the last seven years," said Simon Day, VP Naphthenics at Nynas. "It confirms our commitment to providing customers and partners with transparent and trustworthy sustainability credentials. I would also like to highlight the importance of this award to both our employees and to the local communities in which we operate."
"As tangible support to our customers seeking to develop more sustainable products and operations, Nynas introduced two bio-based grades – NYTRO BIO 300 X and NYTEX BIO 6200 – as well as several other grades which contribute to lower energy consumption, improved efficiency, recyclability and HSSE in various industry processes and applications.
Continuing our sustainability journey, this year Nynas will introduce several new products specifically developed to expand our product offer and to support Nynas' and our customers' developments toward a more sustainable future, concludes Dr. Gaia Franzolin, Marketing Director Naphthenics at Nynas.
"The award is recognition of our continuous commitment to all aspects of sustainability," explains Marika Rangstedt, Manager Sustainable Development at Nynas. "However, this is an ongoing process and we will continue to focus on improving our performance against a backdrop of tougher standards and requirements.
Platinum rating for Evonik
Earlier in the year, at the end of February, EcoVadis awarded Evonik a "platinum" rating for its sustainability performance for the first time. EcoVadis had already rated the specialty chemicals company "Gold" six times.
"In close dialog with our stakeholders, we drive our sustainability activities along the value chain. Our attention is always focused – in addition to our own production and business processes – on the supply chain as well as product benefits and applications on the customer side. The EcoVadis award confirms our commitment," says Thomas Wessel, executive board member responsible for sustainability.
Evonik is a founding member of the chemical industry's Together for Sustainability (TfS) initiative and is assessed annually by EcoVadis, which carries out the assessments as a partner of the initiative. The aim of the TfS initiative is to increase transparency and sustainability in global supply chains through uniform assessments and audits of suppliers and additional training.
Cabot Corporation receives platinum sustainability rating from EcoVadis
Prior to that, carbon black supplier Cabot Corporation also received a platinum level rating in recognition of its sustainability efforts from EcoVadis. The company announced that the platinum rating, which was established in 2020, was awarded to Cabot in January 2021. Cabot had received a gold rating the previous four years. Gold is awarded to companies that score in the top 5 per cent of companies evaluated.
"Our steadfast commitment to excellent sustainability performance is not only critical to our long-term success but is a key differentiator in our industry. Receiving a Platinum rating after four consecutive years of Gold ratings is recognition of how we are leading the way with our environmental, social and governance efforts," said Sean Keohane, president and chief executive officer. "This recognition is a tribute to our dedicated team around the globe, who integrate sustainability into our strategies and our daily work."
Birla Carbon achieves Gold level rating
SimilaryBirla Carbon has been awarded a Gold level rating for the fifth consecutive year by EcoVadis, an independent sustainability rating agency. This recognition confirms Birla Carbon's position as an industry leader in advanced sustainability practices and reporting and places it in the top 3% of companies in its sector. The rating was provided after reviewing Birla Carbon's sustainability practices in its recently published eighth sustainability report, Bending Towards Circularity.
Commenting on the achievement, Joe Gaynor, Chief Legal, Sustainability and Risk Officer, Birla Carbon, shared, "At Birla Carbon, sustainability is more than a commitment — It is central to who we are and how we operate. We are both proud and humbled to receive this award in a year when we, like most of the world during this global pandemic, have remained laser-focused on ensuring a safe workplace for our employees and uninterrupted supply and services to our customers." He further added, "Five consecutive Gold ratings is a noteworthy achievement, but it would not be possible without the consistent and devoted efforts by all of our employees. I would like to thank our employees for their continuous commitment to our Purpose to 'Share the Strength', for it is through that collaboration that we are able to remain a good neighbour in our communities, a reliable supplier to our customers and a safe home for our employees. We at Birla Carbon are committed to constant improvement in order to remain an industry leader in sustainability, and we are making plans to have an even greater impact in the years to come."