3* upgrade for Goodyear loader range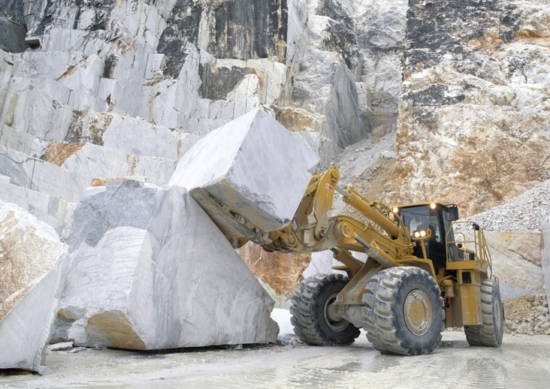 Machines used in off-highway applications have evolved over the years into heavier vehicles with increased capability and capacity, and tyre makers have needed to keep apace with this evolution. Goodyear has done so by upgrading some of its products for loaders to a 3* marking.
Goodyear is including 18 out of 30 sizes from its RT-4D/5D, RL-4K/5K, RL-3S/5S loader range in this upgrade programme. Tyres with the 3* marking provide a stronger radial casing with a larger bead section and stronger ply wires. In turn this leads to up to 18 per cent higher load carrying capacity compared to 2* marked versions, supporting potential improved cost-per-hour. Goodyear says the new design aims to reduce downtime in the most extreme conditions as well as meeting the demands of underground mining.
The products also feature Goodyear Hi-Stability Technology, which consists of a radial sidewall construction that provides greater stability to reduce bucket sway increasing driver confidence in loading operations. The improved stability and control assist in extending the tyre's life through minimised deflection and higher resistance to impact.
"Innovation is at the core of everything we do, from the design, manufacturing and delivery of cutting-edge products to help you drive results, day in day out. The advanced new 3* marked tyre construction enables operators to have a higher load capability and higher inflation level which in turn allows them to operate safely whilst completing tough jobs," comments Octavian Velcan, managing director OTR, Goodyear EMEA.
Goodyear presented these new products at the virtual Hillhead Show on 30-31 March. "Packaging together Goodyear's new 3* marked tyres with our TPMS Heavy Duty at the virtual Hillhead Show enables us to present an end-to-end offering to operators supporting them to get the most out of their machines whilst keeping safety at the forefront of their operations," added Velcan.