Tyre retailer achieves £1 million of tyre sales through MTS's TyreClick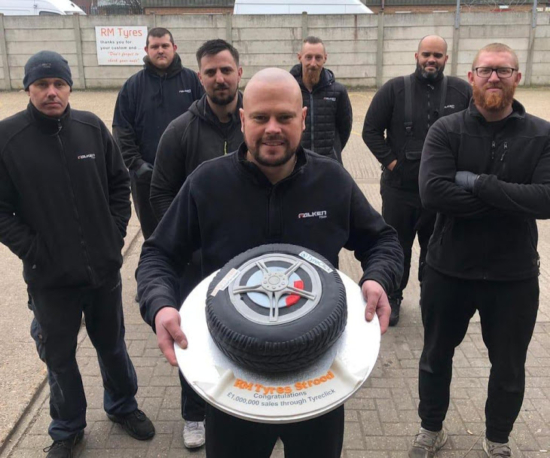 Phil May, owner of Strood based RM Tyres, passed the million-pound milestone at the end of February, the peak of 12 months during which his company has seen an unprecedented increase in online sales. For all of the tyre sales processed by RM Tyres through TyreClick, 28 per cent have come in the past 12 months, an indication of the surge in consumers opting to buy their tyres online.
The RM Tyres staff team, including Brad Lee who successfully manages the RM Tyres site on a daily basis, celebrated the million-pound milestone with a specially baked, tyre shaped cake, with the '£1,000,000 sales through TyreClick' message written on it.
Phil May commented: "We are delighted to have gone past £1 million in online tyre sales. It's an incredible achievement and we are very grateful to TyreClick for its role in facilitating those sales. We were among the first tyre retailers to join TyreClick when it first launched in 2014, and our experience since then has been nothing but positive.
"The TyreClick site has driven business for us consistently year on year and in the past 12 months the enquiries and subsequent sales have been phenomenal. With more and more customers buying their tyres online, TyreClick will continue to be important to us and I am sure it won't be too long before we are celebrating another significant sales achievement."
Retailers signed up to the TyreClick site gain access to benefits including: running on-site promotions such as Just Eat vouchers to incentivise and engage consumers, develop individual content and enable tyre retailers to set and control services offered.