McConechys website migrates to Halfords.com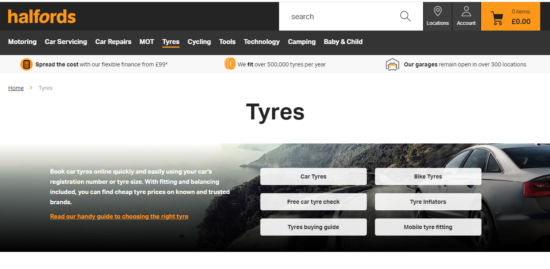 McConechys Tyre Service, which was bought by Halfords last year, is migrating its website to the Halfords.com portal. At the same time as making the website migration announcement, company representatives revealed: "All of the [49 form McConechy's] garages have been trained to provide the same services that would be expected at a Halfords Autocentre, including both on demand and bookable services.
"The on demand service means if motorists buy any car bulb, wiper blade, car battery or engine oil, McConechy's colleagues in store will be able to help fit them while they wait. Customers just need to ask for the on demand service when they make their purchase at the centre or can book these services online."
Online booking means customers can now see live availability across all local garages in the network, allowing them to book at their convenience. All prices are displayed online – saving time as there's now no need to call garages for quotes – and motorists can now book services and MOTs together which offers great savings. Customers will also receive an electronic MOT reminder to make sure they never forget to get their vehicle tested.
Chris Rose from Halfords Autocentres commented: "We are really excited about the move and it is highly complementary to our services led strategy. The move means that McConechy's customers can now benefit from being part of the Halfords family, now being able to access a wider range of services."