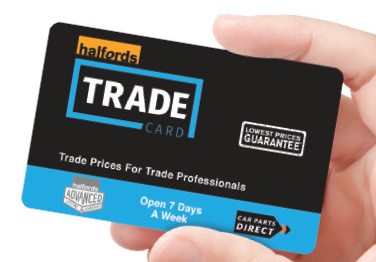 Halfords relaunches trade card
Halfords has relaunched its "trade card", giving trade professionals access to "the best prices on car maintenance tools and products". The offers comes alongside the launch of a new trade only website, offering the trade exclusive deals and pricing – up to 50 per cent off in some cases.
Products on offer include workshop tools, body repair, oil, bulbs, wiper blades and batteries.
Halfords Trade Car manager Paul Stanley commented: "We know that the way the trade professionals buy tools and parts has changed – they want to browse and make sure they are getting the best deals then buy online….".
Meanwhile, at the end of June Halfords announced that online booking at its Autocentres business is up 19 per cent, that it has opened 11 centres and that it has refreshed 24 of its existing centres during the last year. Assuming no closures during the last year, this means Halfords now runs 316 Autocentres across the UK.
Category: Product News, UK News