Heuver distributing Xlite range in Europe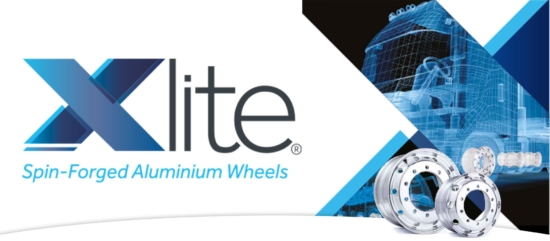 Netherlands-based tyre wholesaler Heuver is now a European distributor for the Xlite range of aluminium truck wheels. These wrought aluminium truck wheels, produced in accordance with TÜV and ISO9001 norms, are stronger yet 40 per cent lighter than a standard steel equivalent.
"One of the main advantages is that aluminium truck wheels are five times stronger than the steel equivalent," says director Bertus Heuver. "Xlite wheels are produced on a spinning machine using one piece of strong aluminium. The latest CNC machines are used to produce the most precise products possible. The aluminium then undergoes a special heat treatment that helps to maximise the strength of the wheel.
"For our customers, this means less wear and tear and the longest possible life span for their wheels, tyres and axles," adds Bertus Heuver. "When it comes to the finish, our customers can choose from brushed, polished and Xbrite. In addition, all wheels are available with 26mm as well as 32mm lug holes."
Xlite wheels are available in the following sizes:
6.75 x 17.5
7.50 x 19.5
7.50 x 22.5
8.25 x 22.5
9.00 x 22.5
11.75 x 22.5
Higher loading capacity, lower fuel costs
"All aluminium truck wheels are 40 per cent lighter than their steel equivalent. We are proud to be able to offer a complete range of aluminium truck wheels to our customers," adds Bertus Heuver. "Xlite wheels have an average weight of 24 kg, which helps to increasing the loading capacity of vehicles, while reducing fuels costs and helping the environment. The protective ALT valves are available on all wheels as standard. Naturally, the wheels comply with European safety norms and TÜV norms, and are rigorously tested for compliance on this front. We are convinced about the quality of the Xlite series and emphasise this with a standard 5-year guarantee. Furthermore, all 11.75x 22.5 trailer wheels have a bearing capacity of 5,000 kg, which means they comply with all applicable European norms. This makes them yet another top product for our truck customers."
The Wheel Hub, formerly MWheels, remains the official EU distributor of XLite.