Maxxis beats Michelin, Conti, Goodyear in 2021 summer tyre test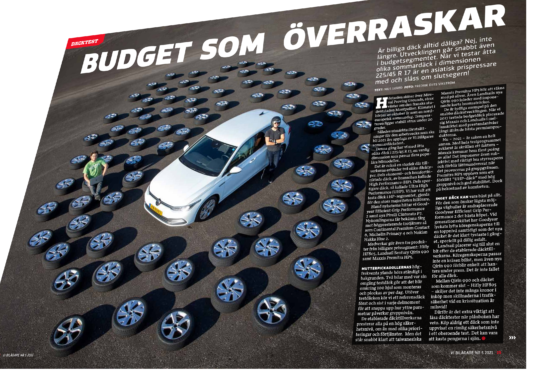 Swedish auto publication Vi Bilägare's testers impressed by 'Asian price presser' as Maxxis Premitra HP5 pips premium brands
The Maxxis Premitra HP5 has capped a run of impressive tyre test results by winning Swedish magazine Vi Bilägare's 225/45 R17 contest. The flagship global brand of Taiwanese manufacturer Cheng Shin beat premium tyres from Goodyear (EfficientGrip Performance 2 in second), Continental (PremiumContact 6 in third, alongside Nokian's Hakka Blue 2), Michelin (Primacy 4 in fifth), and Pirelli (Cinturato P7 C2 in sixth) in the test, conducted in Mireval, France. The test ranked tyres based on wet handling, braking and cornering grip, curved and straight aquaplaning, dry handling and braking, fuel consumption, noise, comfort and rolling resistance.
Vi Bilägare conducted the test in early October. It said that the Montpellier area's climate meant that temperatures were stable just below 20 degrees Celsius, making the test a good exemplar of average summer climatic conditions in northern Europe and the UK. The publication said that it chose the tyres based on their applicability for the majority of drivers, noting the 17" size as a crossover point for many tyre brands' mass-market (or HP) and ultra-high performance (UHP) ranges. For example, it chose Conti's PremiumContact range rather than the SportContact.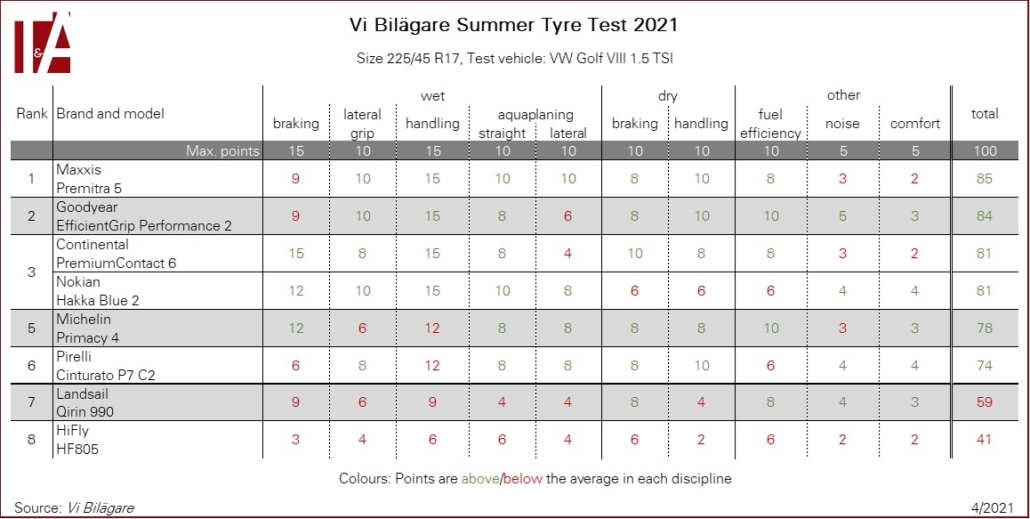 Maxxis Premitra HP5 ascends to top
The Swedish magazine titled its write-up of the summer tyre test "Budget som Överraskar" ("Budget Surprises"). However, this summary refers only to the Maxxis representative. Vi Bilägare said (translated from the Swedish) that "it quickly became clear that the Taiwanese Maxxis Premitra HP5 is here to be taken seriously." The same could not be said of the Landsail Qirin 990 or the HiFly HF805, which rounded out the test lineup in seventh and eighth place respectively. The HiFly in particular recorded below-average grades in every discipline, and was described as difficult to drive in critical situations by testers. The Landsail Qirin 990 was a considerable step up from the HF805. It was notably more competitive with the top six in dry braking, fuel efficiency and comfort. However, it was also 15 points off the pace of the Pirelli tyre in the final totals. In contrast, just 11 points separated sixth from first.
It is worth asking whether Maxxis should be counted as a "Budget" brand – at least in the same sense as the Landsail and HiFly tyres tested here. Cheng Shin has invested heavily over the last decade in its R&D operations, opening a state-of-the-art proving ground at its Shanghai based technical centre. It is a brand with noted specialisms in motorsport codes that are particularly demanding on tyres, whether that be on track with drifting, or off-road with extreme rallying and motocross. It is active in a wide variety of segments, and has been building a global brand with increasingly high-profile sponsorships within both motorsport and in other sporting arenas. As Tyrepress noted in October 2020, it even ranks highly in our analysis of social media in the UK.
Now, in addition to all of these factors, it appears we can add product quality into the argument for Maxxis's ascent in the mid-range. Its Premitra-branded tyres have been notching up impressive performances in independent European tyre tests in all three season-based categories since the initial HP5 launch in 2016. Latterly it has been joined by the Premitra Snow WP6 and the Premitra All Season AP3, as well as the UHP and SUV focused Victra Sport 5 line. Collectively, these products tested well in 16 separate 2020 quality independent tests tracked by our tyre comparison sister website, WhatTyre. The HP5 leads the way, with recommendations from Autozeitung, ACE Lenkrad, and Tyre Reviews. The Vi Bilägare result means it also has an outright win under its belt.
Maxxis's win was achieved via a very good all-round display. While it could not match the Conti PremiumContact 6's exceptional wet braking, it scored leading marks in every other wet performance discipline. In aquaplaning, Maxxis scored top marks to beat every other tyre. It achieved 70.2km/h before aquaplaning on a curve, while the next-best tyres in the test lost grip at 68.5km/h or slower, the testers reveal. On dry roads, the HP5's "stability and steering response are top notch," according to the testers.
The few negatives for the tyre appear in its relatively loud road noise. Over bumpy surfaces, the tyre also did not impress the testers, who say "there are more comfortable tyres on the market." Having said that, Vi Bilägare was overall impressed by the Maxxis tyre on its own terms: "…we haven't even taken the price into account." The tyre is available in more than sixty sizes from 15" to 18" in the UK via distributor Stapletons
Premium brands continue to impress
Maxxis's notable achievement was not a thumping win over any of the premium brands in the test. To the rear of the top six, Pirelli's Cinturato P7 C2 and Michelin's Primacy 4 were both within striking distance of the best in the comparison. The only weaknesses are the wet braking distances (Pirelli) or slight compromises in lateral aquaplaning (Michelin). In the case of Nokian's Hakka Blue 2, higher rolling resistance and deficits in dry grip prevented a better performance. The Conti PremiumContact 6 lacked a bit of comfort, which is described as average, and has room for improvement in transverse aquaplaning. Otherwise, both third-place products have convincing strengths, especially in cornering grip and braking (Conti) and in comfort and wet driving properties (Nokian).
First and second place were separated by just one point overall. Its slightly less strong aquaplaning resistance contributed to the Goodyear EfficientGrip Performance 2's second place finish. The tyre features test-leading fuel efficiency and noise comfort, in addition to very strong overall performance in the wet and dry.