Davanti-supported driver Zelos to race in Mini Challenge eSeries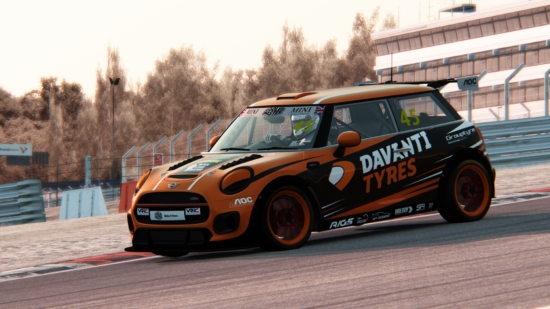 With the pandemic situation continuing to place 2021 motorsport series in doubt, racers are preparing to get involved in Esports. While digital competition has been a growing trend for several years, interest in digital motorsport spiked in response to the suspension of series across Europe in 2020. A leading Mini Challenge competitor, Dan Zelos is looking forward to his return to the track on 16 January, as the championship's official eSeries commences. Zelos is supported by Davanti Tyres; the UK tyre brand will also boast a presence in the competition as Zelos pilots his Davanti-branded Mini around virtual versions of every circuit on the 2021 calendar.
Zelos will compete from his own home. The Virtual Reality Racing Club (VRRC) has supplied a race simulator to run on the Asseto Corsa sim platform. The Dereham ace finished second overall in the real Mini Challenge Championship last season. In the second season of the Mini Challenge eSeries he will race against both real-life rivals and some of the most skilled sim-racers in the eSports world. The series will be broadcast live on YouTube and Facebook, and highlights will be available via Amazon Prime.
"Adding a race simulator to my training and preparation has long been something I have considered," Zelos said. "With the ongoing effects of Covid preventing physical testing, this was the right time to go for it.
"Not only will it allow me to familiarise myself with tracks that I may not have driven for a while, it also puts me into a competitive scenario to hopefully keep me sharp with one eye on the forthcoming race season."
The simulator rigs replicate all the undulations, camber changes and nuances of the real-life tracks.
"I've always been old-school – walking the track, going over video – so using the simulator has taken a bit of getting used to," said Zelos. "The feedback from the rig through the wheel and pedals is very realistic.
"There are a few differences. You can get away with a little more in the sim, for example, you don't need to take as much care of the gearbox! There is also not the element of risk. If you crash out there are no serious consequences.
"But it's going to be great to go up against old rivals Max Coates, Isaac Smith and Max Bird and also maybe build some new ones with the eRacers!"
"This is new territory for Dan and for Davanti," said Davanti Tyres sales director for the UK and Ireland Sean Maddocks.
"The world of eRacing attracts huge audiences, both from within the traditional racing community and with those who love eSports. Season one was a huge success and we are proud to back Dan as he joins for season two."