5 more years: BTCC extends Goodyear tyre supply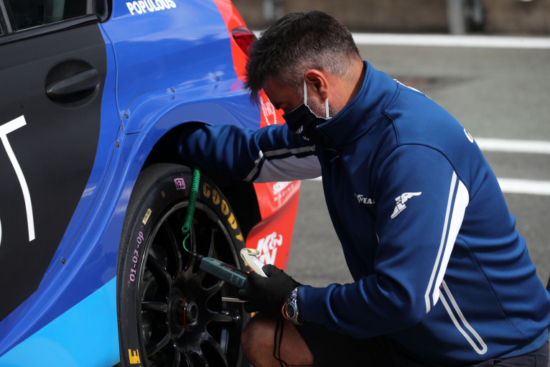 After debuting in 2020 as exclusive tyre supplier to the British Touring Car Championship (BTCC), having taken over from sister brand Dunlop, Goodyear has now signed up for a further five years. Goodyear Tyres and BTCC series organiser TOCA announced today that their partnership will continue through to the end of 2026 and through the introduction of hybrid power to the championship.
This five-year arrangement will extend the tyre maker's continuous partnership with the BTCC into a third decade. By the time the 2026 season draws to a close, Goodyear will have invested 24 years of unbroken tyre development through its portfolio of brands. This investment has seen it introduce a number of innovations into the series, such as RFID tagging, the soft, medium and hard compound options and a new tyre construction. Goodyear's rollout of technologies will continue as the championship prepares to welcome hybrid power.
"We are thrilled to have signed yet another extension to our partnership with the BTCC, continuing as tyre supplier and retaining the naming rights to the championship," says Ben Crawley, motorsport director at Goodyear Europe. "We were really drawn to the contract extension as we wanted to be part of the next exciting chapter of the championship. With the introduction of hybrid power, new demands will be put onto the tyres and we are able to bring a lot of knowledge and expertise to the programme thanks to our experience working with leading OEMs where we are shod on some of their hybrid and electric vehicles.
"The fact that this contract also brings us fantastic milestones, such as entering a third decade of partnership, makes us feel really proud as we reflect on all of the fantastic things we have done as a company to promote and develop the championship, not only for the teams and drivers, but also the fans. We look forward to entering this new chapter with the UK's leading racing championship."
Alan Gow, BTCC chief executive, adds: "The BTCC having a strong technical tyre partner is a key component of our success. As well, being the first major touring car championship to confirm its pathway for introducing hybrid technology, Goodyear is a hugely significant part of it.
"This is a very exciting period for the championship, and I'm pleased that we will continue our partnership with Goodyear through to the end of 2026. Goodyear has been an incredibly proactive and engaged partner of the BTCC for so many years and their ongoing commitment will help the championship continue to thrive into the future."