Tyre garages remain open despite second lockdown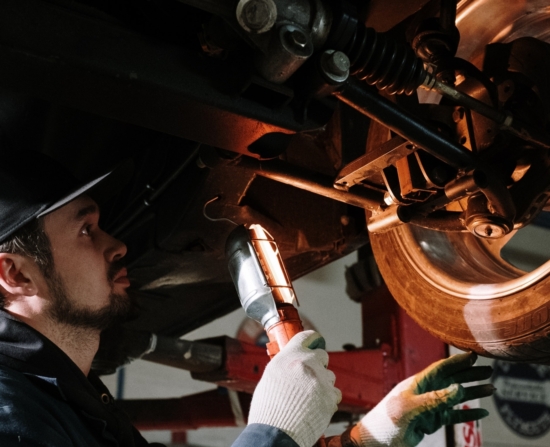 When the Covid-19 pandemic led to the first national lockdown in March 2020, it wasn't immediately clear what was allowed to be open. It also took time to clarify who exactly could be defined as key workers. However, it quickly became apparent that – whatever else happens – logistics fleets and blue-light services were indispensable. And these vehicles can't get anywhere without tyres. Therefore, garages and tyre-fitters were swiftly categorised as exempted businesses and key workers respectively. Having learnt the lessons of the first lockdown, this time things are clear: Tyre garages are allowed to remain open during lockdown. And tyre specialists are key workers.
Tyres & Accessories spoke with National Tyre Distributors Association (NTDA) chief executive, Stefan Hay in order to find our more about how the lessons are the first lockdown are being applied this time round. Hay began by giving the background of what has happened up till now:
"We lobbied government quite extensively to get clarification of the role of tyre distributors in all of this. It was quite clear at a very early stage in our discussions with various government departments that tyre distributors are seen as essential services…"
Tyre fitters are key workers
The role of garages as exempted businesses and the status of tyre fitters as key workers is undeniable, Hay explained: "If we start with the commercial vehicle side of the business, there are more trucks and vans on the road than ever. Distribution has gone through the roof. So, distribution was seen as essential. Anything that supported distribution was seen as essential. And, of course, our guys and girls were keeping trucks on the road."
Therefore, this same is true this time round: "Compare that to now: supermarkets will remain open. All supermarkets and essential food outlets will remain open. So, that means again, trucks on the road. People will want deliveries…Online shopping will go through the roof again, we have no doubt about that…Construction is still going. We anticipate the commercial side of the business will be very busy", Hay continued.
But it is not only commercial tyre fitters. The same is true for those in the passenger car tyre business: "On the more high-street retail fast-fit side of things, again, garages were told 'stay open'. So, we recommended to members that they should."
While some figures suggest that as many as 60 per cent of garages closed at some point during the first lockdown, circumstances varied greatly from business to business and our own research of tyre retail during the first lockdown period shows that there was a correlation between size of business and willingness to open – the larger the business, the more likely to stay open. However, Stefan Hay believes that the "vast majority" of NTDA members did remain open.
MOT extension decimated footfall
However, the MOT extension "decimated" passenger car tyre retail footfall, according to Hay:
"I think that decision [the MOT extension] was made for the right reasons, but I think probably that it was ultimately the wrong decision. I don't anticipate that we will see that again. The majority of members tell me that they plan to remain open. They are as busy as they were.
"They're already complaining about staff shortages", Hay continued, explaining that some drivers were tempted away from the tyre business by higher-paid jobs in the booming online retail and distribution at companies such as Amazon. And all this is all set against a backdrop of "a massive investment" in getting tyre branches Covid-safe, so to speak.
At the end of May, Tyrepress hosted a "kick-starting your tyre business" webinar in order to share what various leading businesses had learnt during the first UK lockdown. Our goal is to be part of helping the tyre trade do what it does best – keeping Britain rolling. So, when the annual Tyre Industry Conference understandably had to be cancelled due to the unforeseeable Covid-19 circumstances, we were delighted to be able to help bring the conference to you.
In cooperation with the NTDA we agreed to premiere this event on Thursday 5 November 2020 – the same day the conventional Tyre Industry conference had been planned for. Little did we know that this coincided with the start of the UK's second national lockdown. So while our scheduled session with BTMA chief executive Graham Willson and NTDA chief executive Stefan Hay was scheduled to focus on high quality tyre performance standards and tyre labelling, it was a great time to find out more about
The below video is an excerpt from the complete "Past, present and future of tyre standards and labelling" session that forms part of the inaugural Virtual Tyre Industry Conference scheduled run in conjunction with the NTDA and supported by CAM Systems, which premieres on 5 November 2020.