More than half of UK garages closed, similar figures across Europe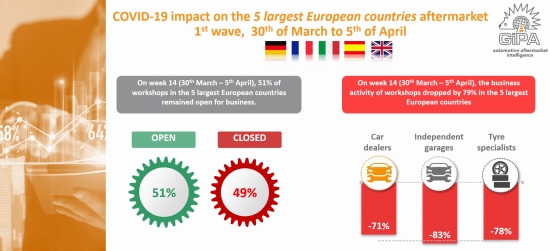 Research conducted by aftermarket analysts GiPA during the week commencing 30 March 2020 found that 53 per cent of workshops were closed.
GiPA UK interviewed 420 workshops in order to analyse the impact of UK government's lockdown measures. Following the first full week of lockdown, which finished on 5 April 2020, only 47 per cent of workshops were open. The remainder were either closed or exclusively open for emergencies. Those workshops that remained open report that they have been working at 44 per cent of their workforce capacity. And overall workshop activity is said to have changed 85 per cent overall, with a 53 per cent decline experience by those that have remained open.
The figures are comparable with the experience across Europe. During the same week, GiPA also surveyed workshops across the five largest European countries and found that 51 per cent had remained open for business. This reportedly resulted in a 79 per cent drop in aftermarket business across the five countries. Independent garages were hit particularly hard, with business there said to be down 83 per cent. Car dealers faired better experiencing a 71 per cent decline. And tyre specialists were somewhere in-betwee, with a 78 per cent drop.