Two-thirds British workshops open – GiPA garage survey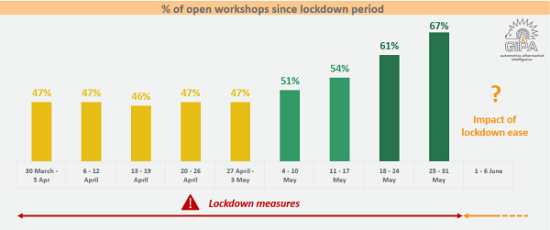 On the ninth consecutive week of lockdown in the UK, two thirds of British workshops were open, according to the GiPA garage survey. This average includes franchised dealers, independent motor traders and tyre dealers, as well as national chains.
GiPA noted that there is still "a clear difference between vehicle manufacturers' networks and independent aftermarket players. However, with the easing of lockdown implemented on 1 June, we can expect the gap to narrow.
"Whilst we see a clear increase in the share of workshops that are now open, the aftermarket is not back on its feet yet. Indeed, most repairers are operating partially-staffed and social-distancing measures suggest a potential impact on their productivity.
"The lockdown ease will also bring cars back on the road and drivers are expected to be using their cars again and take them to the workshop if needed.
"As long as social distancing and new rules are being respected, we can expect the worse part of 2020 to be behind us."