ECP launches back-to-work packs to help garages reopen safely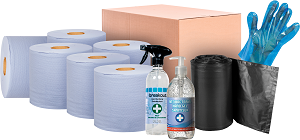 Euro Car Parts has created a new product bundle to help garages access essential cleaning equipment and PPE.
Garages can buy a 'Back to Work Pack' complete with a 500ml antibacterial hand sanitising gel, a 500ml surface disinfectant spray, 25 pairs of gloves, 25 large, heavy duty refuse bags and six 2-ply blue rolls.
The bundle price delivers a £10 saving compared with the total value of the products if bought individually.
Colin Cottrell, marketing director at Euro Car Parts, said: "Putting protective measures in place in line with the latest government guidance will help to ensure that first and foremost, staff and customers feel safe in the garage environment – which is key to getting business back up and running again."
Euro Car Parts is also offering garages free access to the latest tech solutions, to ensure they can deliver work to the highest standard while adhering to social distancing guidelines.
Independent garages can take advantage of a free 12-month subscription to HaynesPro, so their technicians can operate autonomously and efficiently in the workshop with mobile access to wiring diagrams, guided diagnostics and a best-in-class technical service.
They can also sign up for a free 12-month subscription to ViewMech via their local Euro Car Parts branch. The subscription enables garages to send their customers clear, concise video footage of any work required, securing quicker work authorisation and delivering a top quality service that rivals the dealerships.
Colin Cottrell added: "By offering these services to garages for free, we're giving them an opportunity to reinvigorate their businesses and come back stronger than they were before.
"We know that there's a backlog of demand in the market, and incorporating the latest solutions will help garages work their way through it safely. Our advice is to proactively bring in business where possible, both to bring revenue back through the workshop door, and so that they can take control – initially at least – of the volume of inbound work.
"Garages that identify customers on their database with overdue services or MOTs can contact them and offer them an early booking slot of their choice – which in turn helps them to define their opening hours, understand the technician resource they'll need and effectively manage their finances."
All of the items are available to buy online individually. To get the bundle deal, call your local branch.