MTS, Protyre combine for TyreSafe Awards 'perfect ten'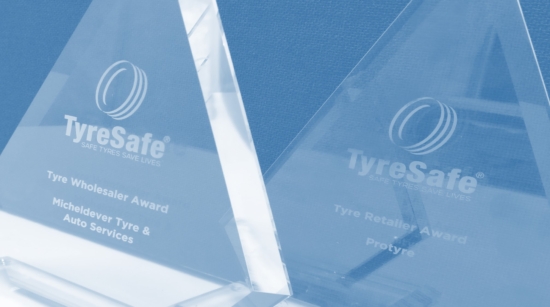 Stone Tyres' three awards represent 'commitment and passion' for tyre safety in independent tyre retailers
The Micheldever Group recorded its tenth TyreSafe Award in 2020, as Micheldever Tyre Services (MTS) and Protyre recorded their respective third and seventh consecutive victories in their categories.
MTS won Wholesaler of the Year, while Protyre retained the Large Retailer of the Year accolade. Micheldever also paid tribute to MTS customer Stone Tyres, which swept the board at this year's event with a hat-trick of awards.
TyreSafe chair and chair of awards judging, Stuart Jackson, said of MTS's award-winning entry: "As always, Micheldever's entry reflected great support for raising tyre safety awareness among its retailer network.
"The Micheldever team created an excellent programme, including events, with remarkable strength of message and consistency. This included the use of TyreSafe assets in materials generated. Once again, TyreSafe commends Micheldever as Wholesaler Award winner 2020 for a terrific campaign with support for smaller retailers and independents."
Protyre was similarly praised for its contribution to tyre safety. Jackson added: "Protyre clearly took a great deal of effort to understand and research their market audience and it has resulted in an excellent programme.
"The strength of message and consistency created great engagement and results and that Protyre leveraged TyreSafe assets to achieve it aims and objectives was the icing on the cake. It was a great entry that stood out."
Micheldever wholesale director Graham Mitchell said: "Micheldever Tyre Services has always taken its commitment to tyre safety very seriously and we are very proud to have secured the TyreSafe wholesaler award for the third consecutive year.
"We would also like to acknowledge the efforts of our tyre retailers, such as Stone Tyres, in helping to raise awareness of the importance of tyre safety. The three awards that John Stone won at this year's TyreSafe awards are not only an incredible achievement but a great representation of the commitment and passion that independent tyres retailers have for tyre safety as an issue.
"MTS has been very successful in working in partnership with independent tyre retailers to communicate the tyre safety message through tyre safety events, online training and MTS's newspaper The Inside Track.
"We are very grateful to receive this award and we will continue to work with tyre retailers to raise tyre safety awareness with their customers and the wider public."
Protyre retail director Simon Hiorns said "It's a great honour to win the TyreSafe award for Large Retailer of the Year.
"We are committed supporters of the TyreSafe charity and the work they do, so to be recognised by TyreSafe for a seventh consecutive year is a fantastic endorsement of our efforts in promoting tyre safety.
"Taking the tyre safety message out across multiple media sectors is crucial in engaging motorists and getting them to understand the importance of this issue. This award win makes us even more determined to continue in our efforts to take the tyre safe message to the consumer for the next 12 months and beyond."
Stone Tyres' 'relentless passion' for tyre safety
In winning the Small Retailer, Online and Social Media (Local Campaign) and Outstanding Achievement awards, John Stone became the first independent tyre retailer to win three awards in the same awards year.
John Stone, said: "It has been a challenging year for the tyre industry, and we are amazed and proud to win not one but three TyreSafe awards this year.
"This is a testament to always giving the best possible customer experience and our relentless passion for raising the awareness of tyre safety.
"We would also like to congratulate MTS for again being crowned Tyre Wholesaler of the Year. This is well deserved as throughout this year they have gone above and beyond in their support to the independent dealers, which makes us feel like we are more than just customers but part of a relationship."