Continental tasked with meeting rideshare firm MOIA's tyre needs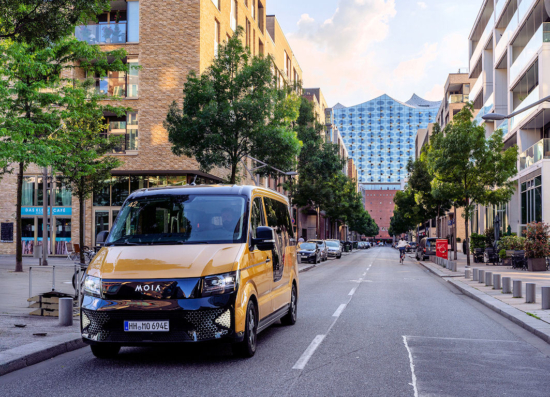 MOIA has selected Continental to look after its tyre service requirements. Continental will provide the ridesharing firm's fleet of electric vehicles with tyres and support in line with a Conti360° Fleet Solutions mileage contract, with the Continental VanContact 4Season the preferred tyre of choice.
Founded by Volkswagen four years ago, MOIA currently operates in the German cities of Hamburg and Hannover but has put out feelers in a number of further locations, including London. The MOIA system centres on vehicle sharing by people whose journeys involve similar starting points and destinations. Passengers book their journey via an app and, as the name suggests, each distinctive MOIA +6 vehicle can carry up to six people.
Together with its service partner Vergölst, Continental will look after tyre performance and provide a breakdown service for MOIA's fleet in Germany. "We've successfully transferred our established 360° Fleet Solutions concept from the commercial vehicle sector to MOIA's new and innovative mobility concept," says Annika Lorenz, head of Fleet Business Germany at Continental.
"We developed the VanContact 4Season tyre for the MOIA vehicle in line with Volkswagen's requirements," Lorenz adds. "This all-season tyre features low rolling resistance for greater energy efficiency, while at the same time delivering good braking performance on wet and slippery roads, maximum ride quality and top-class safety."
A dependable partner
"We are very pleased that in Continental we have found a dependable partner for our fleets in Hamburg and Hannover," states Jens-Michael May, chief executive officer of MOIA Operations Germany GmbH. "The combination of the all-season tyre specially developed for us and the Conti360° Fleet Solutions concept enables us to ensure even greater safety, while the 24-hour tyre breakdown service will boost the efficiency of our fleets."