Kirkby supports continuity of industry with strong specialist tyre and wheel line-up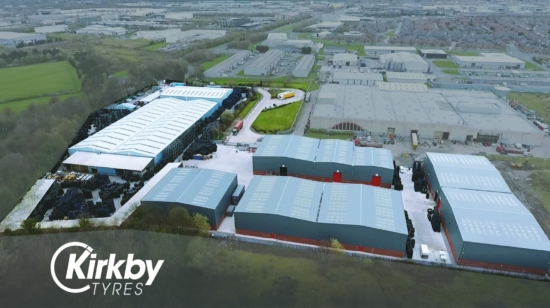 While the challenges of the pandemic to the light vehicle markets are familiar due to the day-to-day experiences of people around Europe, commercial, industrial and agricultural markets experienced different levels of lockdown, as many companies in these sectors worked hard to reinforce supply chains. In the tyre wholesale sector, this meant distributors of products and services to these segments needed to stay strong to supply the rubber that kept countries rolling. Michael Rosenthal, marketing director of the UK and Ireland's largest and most comprehensive distributor of off-highway tyre and wheel solutions, Kirkby Tyres, told Tyres & Accessories about the latest news from the Speke-based wholesaler.
"2020 has been an extremely challenging year for all involved in the industry both upstream and downstream," Rosenthal said. "Although not immune to these challenges Kirkby Tyres have recognised the part we play in supporting the agricultural and transport economies by helping to keep farmers in the field and delivery vehicles on the road. We have worked hard to continue operating at full strength throughout this challenging period and to lessen the impact of worldwide shortages (caused by factory closures) by continuing to hold large buffer stocks of popular tyre sizes."
Kirkby has more than 100,000 tyres and wheels in stock across 900 tread patterns, 1100 tyre sizes and more than 6,500 SKUs. These cover the truck, tractor, flotation, industrial, plant and earthmover tyre and tube segments, alongside wheels for any application. As well as the replacement market, Kirkby Tyres Original Equipment (OE) division supplies key blue-chip manufacturing companies (OE1) and smaller trailer manufacturers (OE2) in these UK segments. It also offers on–site manufacturing, shot blasting, paint booths and fitting for bespoke wheels. It carries both steel and aluminium options from major wheel manufacturers, while a full range of Protector truck wheels are available ex-stock.
New products
Within its product ranges, Kirkby Tyres is also introducing innovative products to the market. Rosenthal exemplifies this with the new CupWheel technology range, invented and licensed by Galileo Wheel, which combines the benefits of tracks and efficient radial tyres. "The popular size 460/70CW24 Galileo Telecup 159B is currently under testing at waste recycling yards," he says, "along with popular skid steer size 12CW16.5 Galileo Skidcup currently under testing with large OEMs." He adds that initial results are "impressive."
Kirkby has also added the new Alliance Agristar 2 range of high-speed 85 and 70 series agricultural R1-W radial tyres. Covering all popular sizes, Agristar 2 takes advantage of a unique Stratified Layer Technology (SLT) – two layers of tread positioned at different angles in order to ensure that the tyre continues to maintain optimal contact with ground surface, roadability, performance, and an extended life cycle, after 40 per cent initial tread wear.
The wholesaler has introduced 10 new BKT SKUs across the popular IF and VF patterns Agrimax Force and Agrimax V-Flecto respectively, the Indian manufacturer's range of high-speed tyres for modern tractors. It also has four new sizes of the high-speed radial flotation Ridemax FL 693 M and a further three SKUs in the V-Flexa range of VF high-speed radial flotation tyres. The industrial range has been bolstered with the addition of 20 solid tyres in the popular Maglift range with standard and lip fitments.
Kirkby has continued to expand its value proposition with exclusive brand MRL too. It supplies new radial flotation tyres in size 560/60R22.5. First showcased at LAMMA 2020 and available in two patterns, FLR 339 and FLR 335, these tyres are steel-belted and high speed rated (165D/162E), featuring good traction and self-cleaning properties along with low rolling resistance for increased fuel savings.
In the truck segment Kirkby is the exclusive Sailun commercial and light truck tyre supplier. The Chinese number four tyre manufacturer's flagship Sailun-branded truck tyres benefit first from investment in new patterns, compounds, technologies and improved labelling results. Kirkby and Sailun are bringing to market new patterns in 2020, including the SDR1 range of drive tyres with 3PMSF and S2WR2 certification, as well as the recently achieved German TÜV accreditation. Kirkby Tyres' TBR offering is completed with a full range of Double Coin truck tyres. Distributed exclusively in the UK and Irish markets for over 25 years and with well over 1 million pieces already sold, Double Coin truck tyres are built on a reputation for quality and backed up with a seven-year warranty and multiple retread guarantee, Kirkby adds.