Kirkby 'not interested' in adding budget products to long-standing range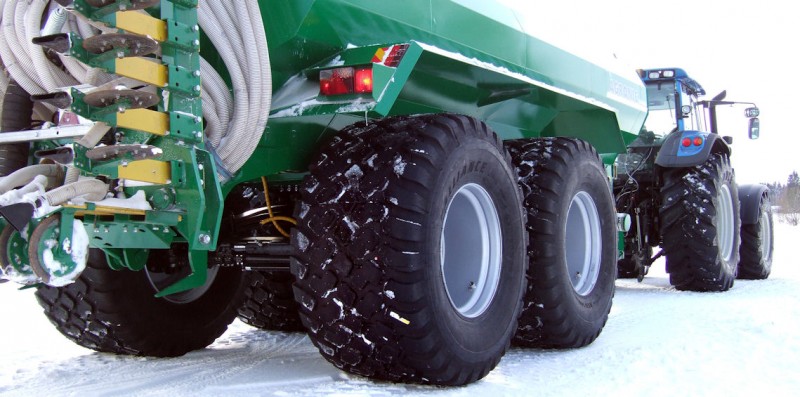 Speke-based tyre wholesaler Kirkby Tyres is not concerned with the high production levels and low prices currently coming out of China at the present time, not least because it does not play a role in the car tyre market. The OTR specialist comments that it expects "more and more tyres to come in at lower prices" within the PCR market, but adds, categorically, that: "we have absolutely no interest in buying or adding budget Chinese tyres to our brand offering" within the segments in which it does operate.
Kirkby continued: "These brands change factories, change names, have no guarantee or warrantee. Our Chinese brands are long established and financially secure. The worst our products could labelled as is 'mid-range' which we [categorise] as tyres that perform alongside premium but at a more reasonable price."
The wholesaler's range is well-established, featuring two deals that stretch back well into the 20th century. The longest of these relationships is with Alliance. Kirkby has been the exclusive distributor of Alliance in the UK & Ireland for almost 50 years. "Over this time we have developed a family-like relationship," the company states. "We have helped each other through the evolution of agricultural tyres and have worked together in developing new products to fit the UK market."
Angelo Noronha, chief of sales (Europe) of Alliance Tyre Group agrees: "The number of Alliance tyre equipped sprayers, trailers, wagons and spreaders that dot the countryside of the UK and Ireland is testimony to Kirkby's efforts."
Also within the agricultural segment, Kirkby has been the main distributors of BKT tyres for six years. "We have a fantastic relationship with this manufacturer. BKT are happy with the fact that Kirkby have consistently achieved a year on year growth in sales."
Sandesh Jain, general manager (exports) of BKT Tyres noted: "BKT's relationship with Kirkby has been mutual and strong for all these years. Kirkby's high investments in stocks, professional work force and good communication level have helped in making this business relationship stronger."
Kirkby has also spent a decade as the exclusive distributor of Malhotra. Through Kirkby, the wholesaler says that Malhotra "offers the UK a highly competitively priced range of agricultural, plant, industrial and multi-purpose tyres.
Double Coin has spent 25 years on Kirkby's books, having become "the first ever Chinese manufacturer of radial truck tyres, as well as manufacturers of highly rated OTR and industrial tyres." The Liverpool wholesaler has also been the exclusive distributor of Sailun TBR tyres for more than four years, and Longmarch for two years.
Tyres & Accessories asked Kirkby to identify the factors it offers these tyre manufacturers in maintaining these business relationships. The obvious answer is that Kirkby "regularly buys their whole range in huge quantities and consistently exceed sales targets." But beyond this, Kirkby has engaged in "creating brand awareness through our in-house marketing department." The department creates advertisements, participates in many exhibitions, and engages customers with email marketing, online advertising and ensuring all of their products are always visible on the first page of UK Google results, when searching by application, vehicle and often size. "We recognise the importance of and invest heavily in SEO." Also crucial in these markets is that machinery uses these brands' tyres from the start: "We work hard at pushing all of our exclusive brands to the OE market," Kirkby adds.
In terms of its selection of brands, Kirkby says it has picked its exclusive brands "carefully… based on growth and stability, enabling us to provide customers with a full warranty for their products. "We are financially strong," Kirkby adds, "enabling us to support multiple brands catering for all price tiers for our customers. We offer technical experience gained over 60 years of consistent growth." Kirkby believes it is the "second-oldest established wholesaler in the UK."
Returning to supply and pricing, Kirkby says it is "seeing reduced prices from all suppliers from around the world due to the imbalance in supply." This is "due to the downturn in the developing markets and the sanctions in Russia," which are "not China specific."
In terms of brand value, Kirkby does not "believe in stocking a large portfolio of brands at all," for reasons of the lack of manufacturer support, meaning "warranty issues" and "no continuity of supply". "We are not interested in commodity tyres with a different brand name every month," Kirkby adds. "We have built our reputation on our core brands, which are fully backed up and guaranteed." It concludes that it is combatting difficult conditions for independent wholesalers through its expansion, giving it greater volume. A warehousing workforce is now headed by "a former head of recognisable household named warehouses (previously in charge of warehouses exceeding 160,000sqft and are implementing their state of the art technology and procedures. The addition of data analyst specialists is also helping a great deal."