Pirelli rolls out larger Diablo Superbike Slick tyres for BSB Championship restart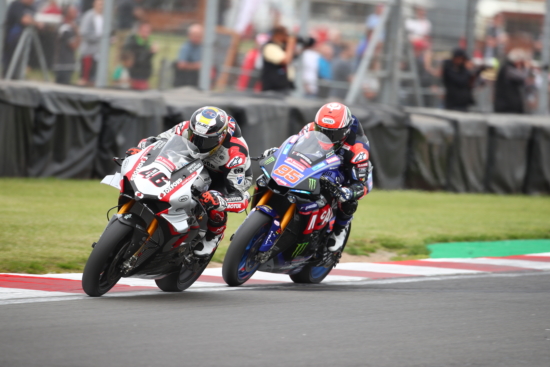 Pirelli has rolled out a range of larger Diablo Superbike Slick tyres for the Bennetts British Superbike (BSB) Championship. The series will run over six rounds starting at Donington Park on 7-9 August. Each round features three Superbike races. Pirelli has continuously acted as sole tyre supplier to the series since 2008. It supplies approximately 4,000 tyres to each event, as well as offering service and support. The new tyres were developed during the 2019 World Superbike Championship. They now comprise part of Pirelli's production tyre range, available to racers of all levels.
BSB teams had a chance to try the new tyres during Spanish tests in the off season and experience the slightly different characteristics they offer. Crucially, the tyre compounds and structures have already been utilised in BSB, which will help with set-up data already collected last season.
The new front tyre has a wider contact patch as it moves from a 120 to 125 section (now 125/70 R17), developed to aid stability as the rider 'drops into' a corner. Many WSB riders reported an increased feeling of front end confidence in this crucial moment with the new tyres.
The increased diameter 65 rear tyre (now 200/65 R17) has been created to improve rear grip as the rider lays down the power exiting the corner.
The tyres have been developed as a 'matched pair' to best utilise the balance between front end feeling and rear grip, always with consideration given to tyre longevity.
Jason Griffiths, Pirelli UK Racing Manager explained, "Pirelli introduced the new larger size slicks to the BSB Superbike class during the preseason test in late February. As always the development process of these tyres has taken place in the WSBK arena. It was a very positive introduction at the tests and now we'll get to see the material in action on UK circuits. The new SC0 rear in particular should provide a step up in performance whilst maintaining durability. We're keen to start work on what will no doubt be an extremely competitive series."
The tyre allocations for the Superbike class are 11 rear (dry) tyres and 8 front (dry) tyres. A maximum of three new rear (dry) tyres may be used across all qualifying practices. When three races are scheduled an additional set of dry tyres is authorised.
Superbike class options
Front:
New Size 125/70 R17 SC1 (Softer): This is the softest solution available for the front. Previously a 'development' solution in World Superbike (V0952 spec) this has been one of the most popular selections in BSB. This compound was developed to provide high grip, performance and riding precision with a versatility of use.
New Size 125/70 R17 SC2 (Harder): This new medium solution is sturdier and quicker in direction changes, gives more support, better grip, maximum lean angle and better absorption of the bumps on the track.
Rear:
New Size 200/65 R17 SC0 (Softer): This compound was previously used in 2018. It's been brought into use again because it gives a very high level of performance, particularly in terms of drive grip. The new larger dimensions allow the use of this high-performance compound whilst ensuring the required durability over a full race distance.
New Size 200/65 R17 SC1 (Harder): The medium-hard solution was used successfully in WSB and gives more consistent performance, especially in terms of grip.
Rain Tyres
Diablo Rain: There are two Rain rear tyres which were first utilised in BSB in 2019 (now in size 200/60) with different groove angles in the grip area, which allow a more consistent wear across the tyre and greater tread stability, as well as on the shoulder grooves which improve water dispersion and improve grip when leaning and traction coming out of corners. Two compounds are available:

SCR1: compound intended for use cold conditions (asphalt temperatures lower than 15°C) or particularly smooth asphalt. This tyre gives the greater grip levels.
SCR2: compound dedicated to the hottest temperatures (asphalt temperatures higher than 15°C) or particularly aggressive asphalt. This should be the most used solution if the track is starting to dry out.
Diablo Wet: As previously an 'intermediate' tyre is available for the tricky damp / drying track which features less grooves than the 'full' RAIN tyre. Developed in 190/60 R17 sizing
Support Classes: Diablo Supercorsa SC V3
The all new (for 2019), third generation, Pirelli Diablo Supercorsa SC V3 has been completely redesigned in terms of structure, profiles, tread pattern and compounds to give a more consistent performance.
These tyres are available for the following classes: Quattro British Supersport 600 & 300, Pirelli National Superstock 1000 & 600 plus the Ducati TriOptions Cup.
The Diablo Supercorsa range of road legal tyres are the ultimate in Pirelli's customer range of treaded tyres for racing and track day use. The 'SP' version of these tyres are used by sports bike owners the world over for everyday road and trackday usage.