Tyre choice critical for Byrne, Haslam head-to-head at Brands Hatch BSB finale – Pirelli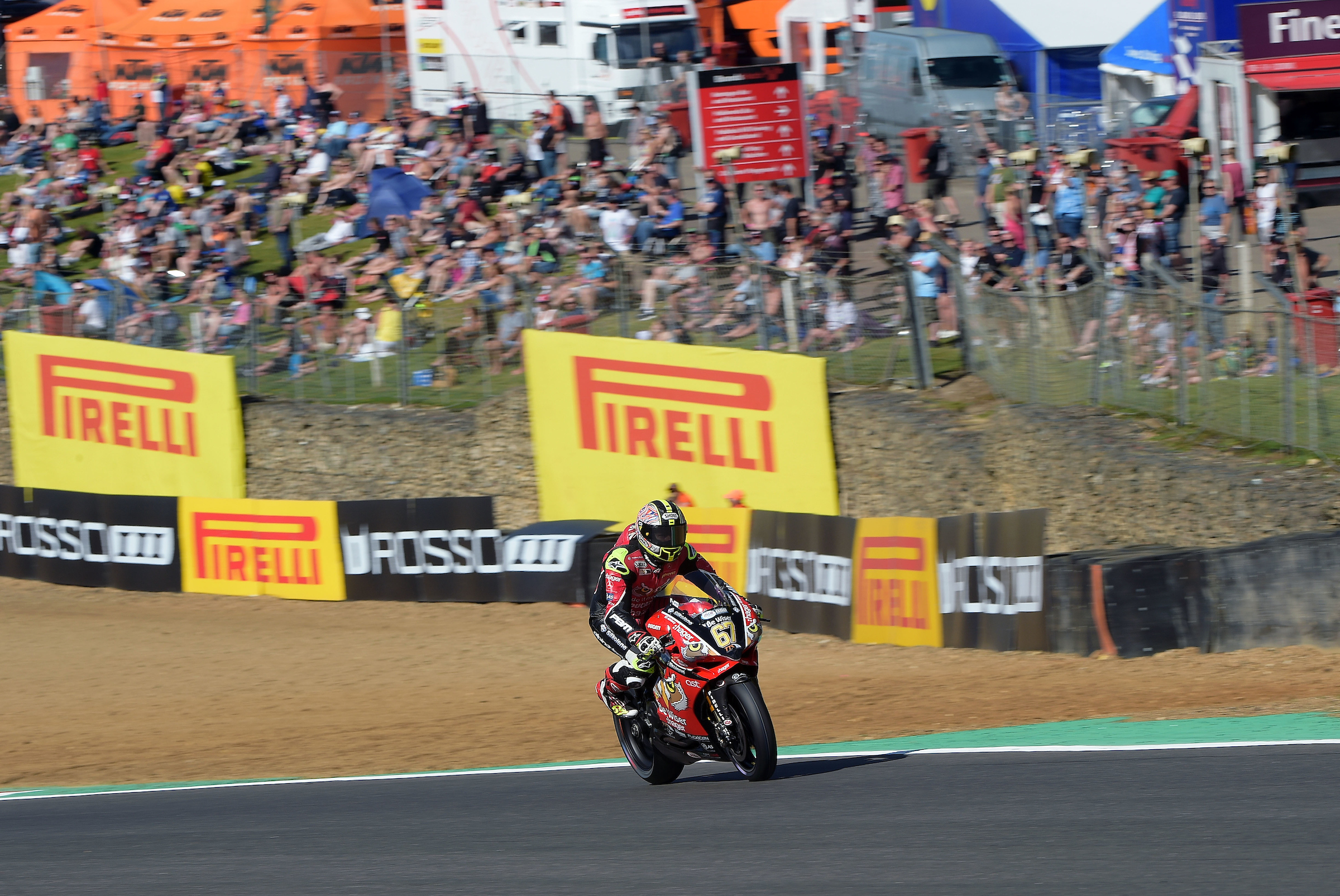 Pirelli says tyre choice could be crucial as it heads to the 2016 MCE British Superbike Championship's final meeting at Brands Hatch. With riders unanimously choosing the softer (SC0) rear Pirelli Diablo Superbike slick tyre at Brands in August, rubber selection for this weekend's races may seem straightforward. However, Pirelli explains the track temperature, which was 40 degrees and perfect for the SC0 then, is likely to be much cooler.  Leon Haslam and Shane 'Shakey' Byrne go head to head over three races at the GP circuit to decide the title.
Pirelli says that lower track temperatures could well lead to more riders using the harder SC1 compound. This is what happened at Assen, where the SC1 was the tyre better suited to these conditions and more durable over full race distance.
During the course of the season Haslam has preferred the harder compound at most circuits, finding better grip to the race end on his Kawasaki Ninja ZX-10R, whereas rival Byrne has been able to utilise the softer tyre, as the combination of his riding style and the power delivery of his Ducati Panigale R seems to result in reduced tyre wear. The riders will be keen to simulate full race distance runs on the two tyres during the free practice sessions on Friday. Riders also have two choices for both front and rear in the event of worse weather; a full Rain tyre and a Wet intermediate option for mixed track conditions.
Although the 2016 season has seen six different winners, the Showdown rounds have been all about the two main title protagonists; four-time Champion Shane Byrne and season returnee Leon Haslam, with both riders taking a double win apiece at Donington Park and Assen respectively.
Local hero Byrne has amassed plenty of Brands Hatch experience, as he showed last time out at the circuit in August with both race wins. Haslam on the other hand didn't have the strongest weekend at the Kent circuit but was on great form last time out at Assen. Byrne leads by 17 points, which allows him the luxury of finishing second to Haslam in all three races to take the title. Pirelli says that 'Shakey' seems unlikely to settle for that scenario, especially with so many potential other factors at play.
The two outings in the Netherlands also showed just how many other riders could be a factor in proceedings, as the races featured a high speed peloton which was up to eight riders strong. With the Superbike paddock full of intrigue concerning teams changing riders and manufacturers, racers will be trying especially hard to impress potential 2017 employers.
Pirelli UK racing manager Jason Griffiths commented: "The Brands Hatch GP Circuit is a track that doesn't usually produce a high rate of tyre wear. However, track temperatures in October mean that use of the softer SC0 solution is not a given this weekend. The different characteristics of the machines will also play a role in tyre choice and we could see the main title protagonists lining up on different options as was the case at the recent Donington Park round. With three Superbike races over two days we could encounter a variety of conditions but the Pirelli service is ready for what is shaping up to be a fitting finale to an incredibly exciting season."
One rider who has impressed many paddock pundits this season is Jason O'Halloran. The Australian gave his view of the forthcoming Brands Hatch event; "I'm really looking forward to be getting back to Brands to be honest and feel quite confident we can go well there. Back in the summer I led race two for 15 laps, unfortunately just not the last few! The aim is definitely to try and get three podiums to see if we can close the gap to third in the series and of course I'd like to log up a second win of the year.
"With regard to tyres I think we'll be on the SC1 rear, a tyre I wasn't so keen on and had hardly used up until Assen. We felt we needed to use it there and I was really pleasantly surprised with how much consistent grip we got, I got the fastest lap in race one which gave us the pole position for race two. I've also been trying both front tyres and we have good pace and feel on both of them. If it rains I'm not to bothered and I seem to be one of the few guys who enjoys using the Inters, so all in all I feel we have the bases covered for the weekend!"